32 Heavy Equipment Types (Construction Equipment with Names, Pictures & Uses)
Construction projects make use of several types of heavy equipment to get the job done effectively and in a safe manner. You're likely to use one of these, depending on the size and scope of the project.
This article guides you through 32 heavy equipment types, including their uses, unique tasks, and more.
Types of construction equipment:
Backhoes
Bulldozers
Excavators
Loaders
Trenchers
Compactors
Graders
Pavers
Telehandlers
Dump Trucks
Dragline Excavator
Feller Bunchers
Pile Driving Machine
Pile Boring Machine
Concrete Pumps
Skid-steer Loaders
Off-highway Trucks
Utility Vehicles
Tower Cranes
Mixers
Electric Rope Shovels
Cold Planers
Drum Rollers
Manlifts
Fork Lifts
Scissor Lifts
Wheel-tractor Scraper
Articulated Hauler
Forwarder
Knuckleboom Loader
Harvester
Skidders
1. Backhoes
A backhoe is a common piece of equipment in construction projects with two arms on the front and back. The front arm has an excavator-like tool or a bucket digger, while the back side is attached to the vehicle.
The front part is commonly known as the boom, while the latter is known as the dipper-stick or dipper.
The boom can be connected to any heavy vehicle, though when it is mounted on a front loader, it is known as a "backhoe loader".
The boom is connected to a king-post which allows it to move in various degrees from left to right while digging out dirt.
Uses of a Backhoe
A backhoe is used for loading and unloading materials, moving earth, digging, carrying smaller equipment, farming, and more.
Because of its maximum load, it can handle so many different jobs.
2. Bulldozers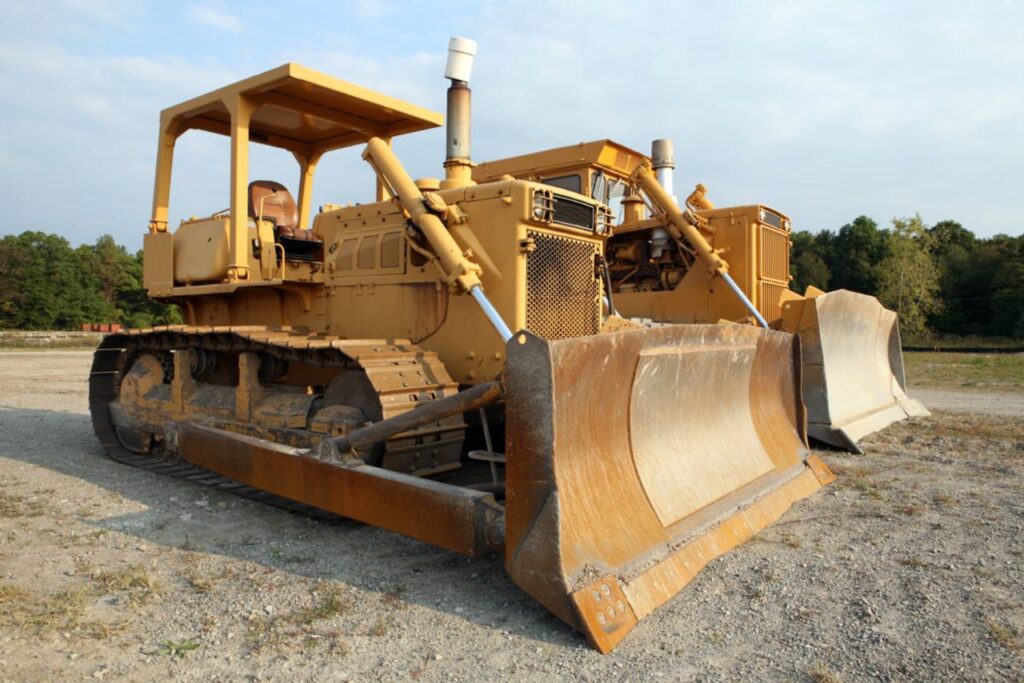 Bulldozers are heavy-duty and powerful tracked equipment with top-notch ground-holding capacity and stability. The wide tracks help distribute its heavy weight, preventing it from sinking in sandy or muddy surfaces.
The Low Ground Pressure (LGP) tracks provide mobility in tough terrains, and the wide blades help push rocks, sand, snow, debris, and building materials.
A bulldozer has different blades depending on the job, from universal to straight blades and semi-universal combination blades.
Uses of a Bulldozer
A bulldozer helps move materials from a surface in farming, demolitions, road construction, land clearing, mining, and more. It utilizes its main parts, the ripper and blade.
3. Excavators
Excavators are adaptable machines found in almost every large-scale construction site. It has plenty of moving parts, from a boom, dipper, bucket, and cab.
Excavators are advanced models of steam shovels, and most folks mistake them for power shovels.
All moving parts in an excavator use hydraulic fluids, motors, and cylinders. Its movement is different from cable-operated excavators that use steel ropes and wrenches to initiate motion.
Excavators are sometimes called "360" as they move in all directions during projects.
Uses of Excavators
The 360-degree angle movement of excavator parts allows it to do multiple functions. Such include forestry work, digging foundations and trenches, material handling, construction, mining, drilling shafts, snow removal, and many more.
4. Loaders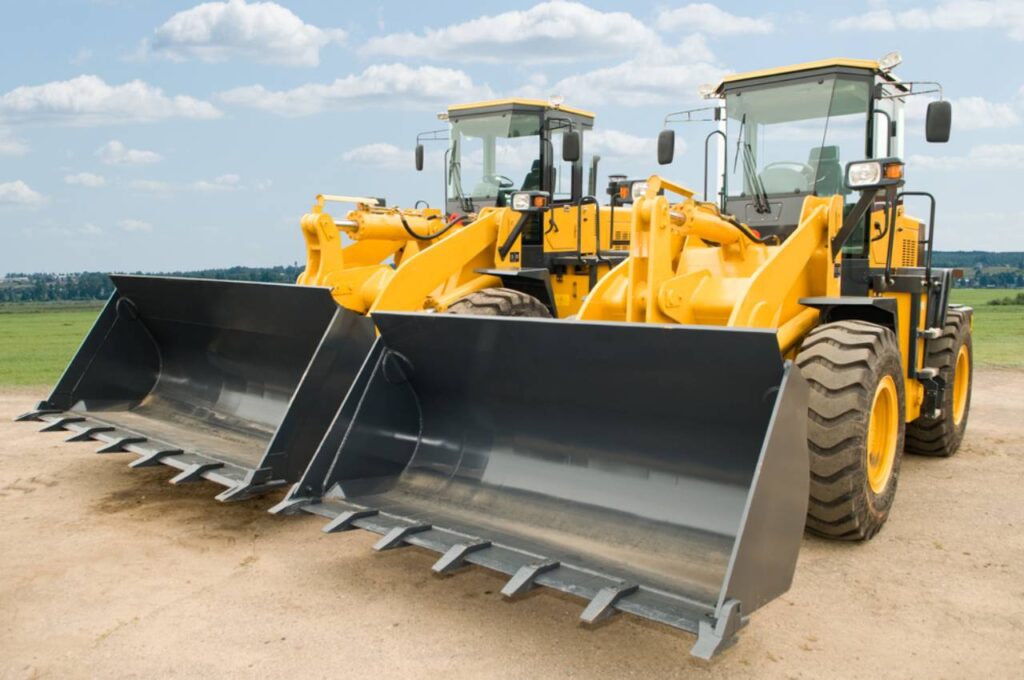 As their name suggests, loaders move aside things like excavated soil, demolition waste, raw minerals, etc. It has a front part armed with a steel bucket, while the back part connects to a vehicle.
A loader has shorter arms, and the movement of the material involves the whole equipment (plus the vehicle).
A loader can mount on a wheeled or tracked vehicle. A wheeled loader is efficient while moving around in areas of fair terrain, while the latter moves in scrappy and rough terrains.
A loader can have many names depending on which vehicle it fits. Here are a few types of leaders:
Front Loader
Bucket Loader Payloader
Shovel
Swing Loader
Tractor Front Loader
Wheel Loader
Scoop
5. Trenchers
Trenchers, also known as Trenching Machines, are used to dig trenches in the ground. The trenchers may be used to lay pipes and ground cables or in preparation for trench warfare.
Several configurations of trenchers are available in construction ranging in size, function, and power. Here are the common types of trenchers today:
Chain Trencher– A chain trencher utilizes a digging chain or belt attached to a metal frame, similar to a chainsaw. It is best for rough grounds with hard rocks that would be too difficult for a bucket-type excavator.
Wheel Trencher– A wheel trencher has a serrated metal wheel for cutting the ground. It is cheaper to maintain than chain trenchers and can work in soft and hard soils. The wheel trencher is similar to an "all-terrain vehicle".
Portable Trencher– Land trenchers are lightweight (around 200 pounds) and can work on small pieces of land like a lawn or in landscaping. They may use a blade or a chain to cut through the ground, rotating in a vertical plane.
Micro Trencher– While a portable trencher is small, a micro trencher is even smaller. It is made specifically for urban places where space and maneuverability are challenging. The toothed blades are small and cut the ground in smaller dimensions to do small-scale conventional trench digging.
6. Compactors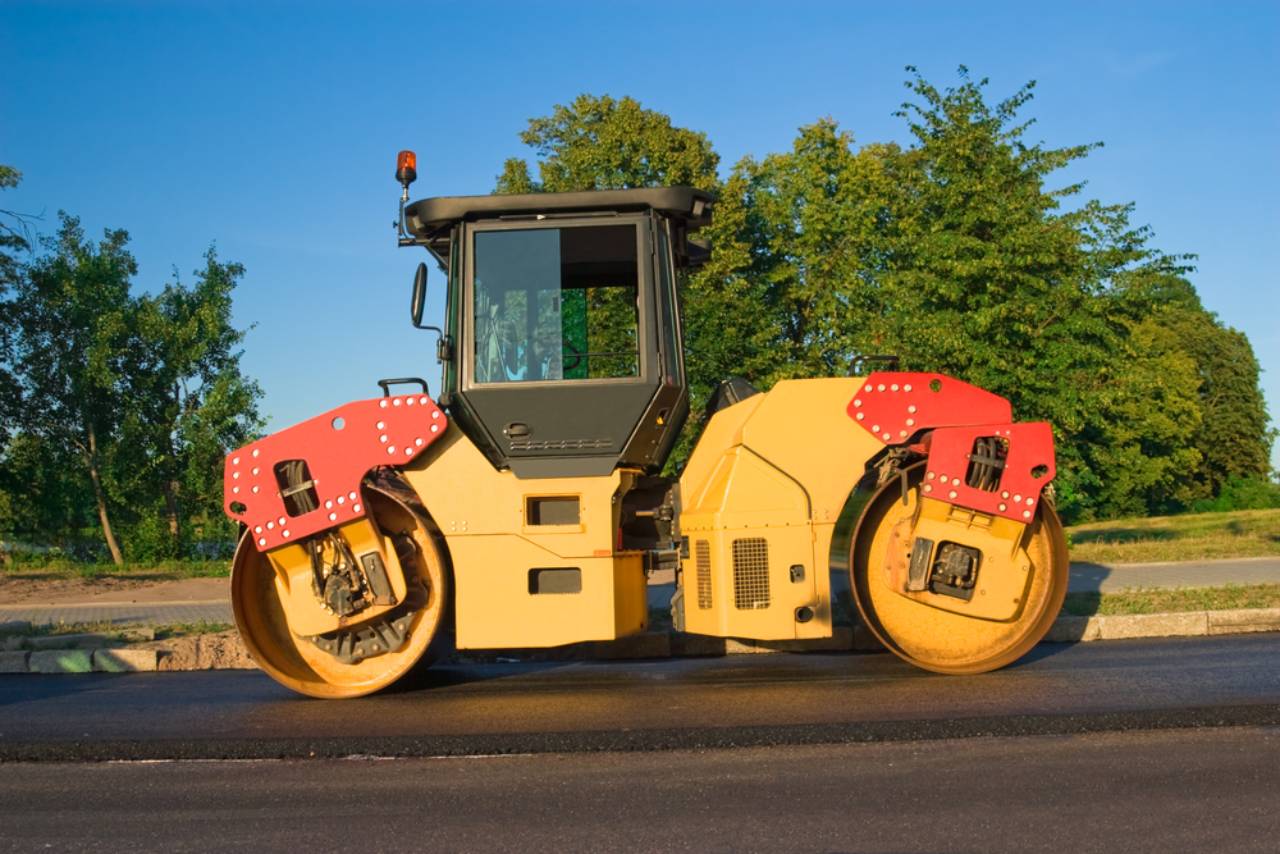 Constructing on loose earth never ends well. Compactors are crucial equipment and solidify particles in the ground using pneumatics and heavy rollers.
The repetitive force breaks down debris into a level, flat surface.
There are several types of compactors in construction:
Plate Compactor– has a large plate used to level the ground, particularly in roads and housing projects.
Rammer Compactor- it is mainly used to compact narrow fields and trenches for ground pipes, water supply, etc.
Road Rollers– this equipment is mainly used in foundation projects to compact crushed rock, or asphalts layers before adding another layer.
7. Graders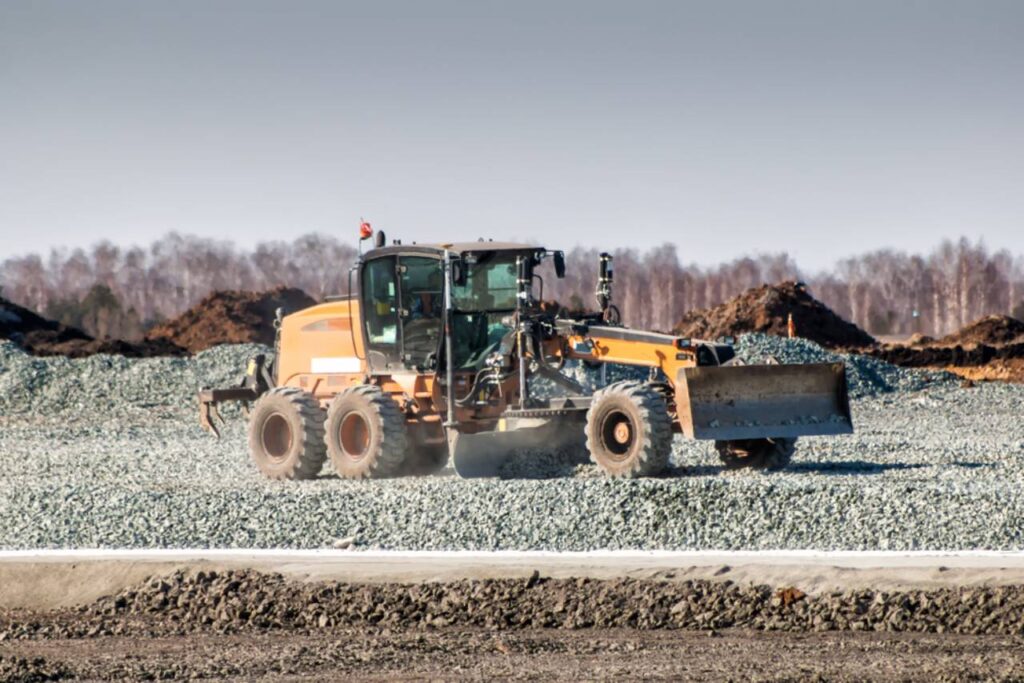 A grader, also known as a motor grader, is a heavy construction machine with a long blade for leveling the ground during the grading process.
They are standard equipment in road construction mainly due to the horizontal balance on the front and behind wheels.
Before, graders were attached to horsebacks, but modern models are engine-powered, hence the name "motor graders".
Basic models have three axles, with one axle at the front, and the other two at the rear below the engine and operating cabin.
Motor graders also help remove snow during winter, as their long blades are 8 to 24 feet wide. Graders are powerful machines, and you must understand how to operate them before using them.
8. Pavers
Also known as a paving machine, paver finisher, or asphalt paver, this construction equipment is mainly used in road construction to carry and lay asphalt.
Asphalt pavers emerged in the 1920s after successful tests from the Chicago testing Laboratory, which identified their role in constructing asphalt roads.
The heavy feeding bucket distributes asphalt evenly on the surface, providing compaction as it rolls on top.
You'll typically find a slipform paver in freeways laying concrete instead of asphalt. This paver uses readymix concrete to spread across the surface and level with wide blades.
9. Telehandlers
Telehandlers are massive construction equipment that lifts bulk materials in tough terrains. They have similar functions to a forklift, but have a flexible boom and are mostly used in commercial and agriculture projects.
Also known as a reach forklift or teleporter, a telehandler's boom is long and can extend upwards and forwards from the vehicle. The tail end of the boom contains attachments like pallet forks, buckers, winch, or muck grabs.
Folks in North America sometimes refer to Telehandlers as cherry pickers due to how they operate.
Pallet forks are popular attachments with a versatile function of moving loads in unconventional places for a typical forklift.
For instance, telehandlers can remove pallet boxes from a trailer and place them as high as a 2-story building rooftop.
Telehandlers are also great in agriculture when the bucket or bucket grab is attached to the boom. Again, it helps move heavy materials to places unreachable from traditional equipment like a backhoe loader or a wheeled loader.
10. Dump Trucks
Dump trucks are used in massive construction projects to carry large quantities of material from one site to another.
The trucks contain a huge open-box bed behind them and big wheels to carry the total load of material, which can easily reach 10 tons.
The bed operates on hydraulic rams to lift the debris during offloading. Dump trucks come in different types depending on the task at hand. Here are popular types of dump trucks:
Standard dump truck– it has a chassis with a dump bed connected on top in a lever and horizontal hydraulic ram arrangement.
Transfer dump truck– it is a standard dump truck with an extra movable cargo container loaded on a trailer. The transfer dump truck can hold construction aggregate, snow, wood chips, gravel, sand, etc. The essence of the second truck is to maximize load efficiency, particularly on highways with weight restrictions.
Superdump truck– it is a standard dump truck loaded with a load bearing, liftable axle rated up to 13,000 pounds. The truck is designed in a way it adheres to the federal bridge formula, though it can carry loads of up to 80,000 pounds.
Side dump truck– the side dump truck is connected to a 2-axle semi-trailer with hydraulic rams that allow the body to tilt horizontally and dump materials on the left or right side of the trailer. It makes it easy for quick loading and unloading of goods.
Semi-trailer end dump truck– the semi-trailer end dump is a combination of a trailer and tractor with a hydraulic hoist. The 3-axle tractor pulls the 2-axle, dual-tire trailer such that the weight is more on the trailer than the tractor pulling.
Belly dump– it is a type of dump truck with a gate at the bottom that releases material from the "belly" of the trailer. The gate has a clamshell design to allow precise offloading when laying materials. It is mainly used for material transport and stockpiling.
11. Dragline Excavator
Dragline excavators are large industrial equipment used in mining and construction activities.
They have a long boom connected to a bucket with metal ropes and hinges to facilitate the movement of heavy debris from one place to another across a deep surface.
Dragline excavators are one of the heaviest types of equipment in construction, and most models are assembled at the construction site rather than transported.
A few smaller ones exist but will still weigh up to 8,000 tons.
Because they are tall, draglines are perfect for deep surface mining, port construction, and underwater excavations. The smaller models are common in canal dredging, pond construction, road construction, and more.
12. Feller Bunchers
A feller buncher is a tree-cutting heavy equipment used to remove large trees on a construction site. The machine uses a sturdy boom and a grabber to rapidly gather and cut a tree before felling it.
Through its mechanisms, the feller buncher can transport the trees to one place at a go.
A typical feller would cut a tree down to the ground, assemble it from different locations and then have the loaders and dump trucks pick it up.
The feller buncher cuts the trees without felling and assembles them in one location.
Performing both of these harvesting functions is mainly done by a tree-grabbing device equipped with the feller buncher. The circular pinching device has a chain saw designed to cut trees once it grabs it.
13. Pile Driving Machine
When the construction requires a solid foundation or layers of soil in the ground, a pile-driving machine is the only machine up for this task.
It is a heavy piece of equipment that uses its weight between glides to drive piles vertically into the ground.
Pile drivers come in different types and sizes, including hydraulic hammers, hydraulic press-ins, vertical travel lead systems, and piling rigs. They are also typically categorized into three sizes:
Small size– has an engine power of 108kW, 60-100kN torque, drilling depth 40m, drilling diameter 0.5-1.2m, overall quality 40 t.
Medium size– has an engine power of 125-200kW, 120-180kN torque, drilling diameter 0.8-1.8m, drilling depth 60m, overall quality 45-65 t.
Large size– has an engine power of 300kW, 240kN m torque, drilling diameter 1-1.25 m, drilling depth 80m, overall quality 100 t.
14. Pile Boring Machine
The pile boring machine is quite similar to a pile driver, only that its main purpose is to make bore holes in a construction site to insert precast piles.
15. Concrete Pumps
A concrete pump is a construction machine used to distribute liquid concrete through a pumping process. There are two major types of concrete pumps.
Boom concrete pump– it is a modern version of a concrete pump attached to trucks or semi-trailers depending on the length. The boom is a robotic arm that directs where the concrete is placed in accurate measurements. Boom pumps are used in large construction projects as they save on labor and time due to pumping high volumes of concrete.
Line-concrete pumps– these were the first type of concrete pumps connected to a truck or a trailer. The pump is manually attached using flexible concrete or steel hoses that lead to an outlet where the concrete is intended. The lengths vary from 10',12.5',25', and 50' depending on the hose diameter.
Other types of concrete pumps include rail-mounted and skid-mounted concrete pumps used in tunnels and mining sites on specialized projects.
16. Skid-steer Loaders
Not all heavy construction equipment needs to be huge- you can also find smaller machines like skid steers.
A skid steer is a type of equipment that does various small-scale to medium-scale construction projects.
It is a single-person machine accepting several attachments to get the job done. Attach a fork, and it becomes a telehandler or a forklift. Placing a bucker at the front converts it into a mini loader or excavator.
17. Off-highway Trucks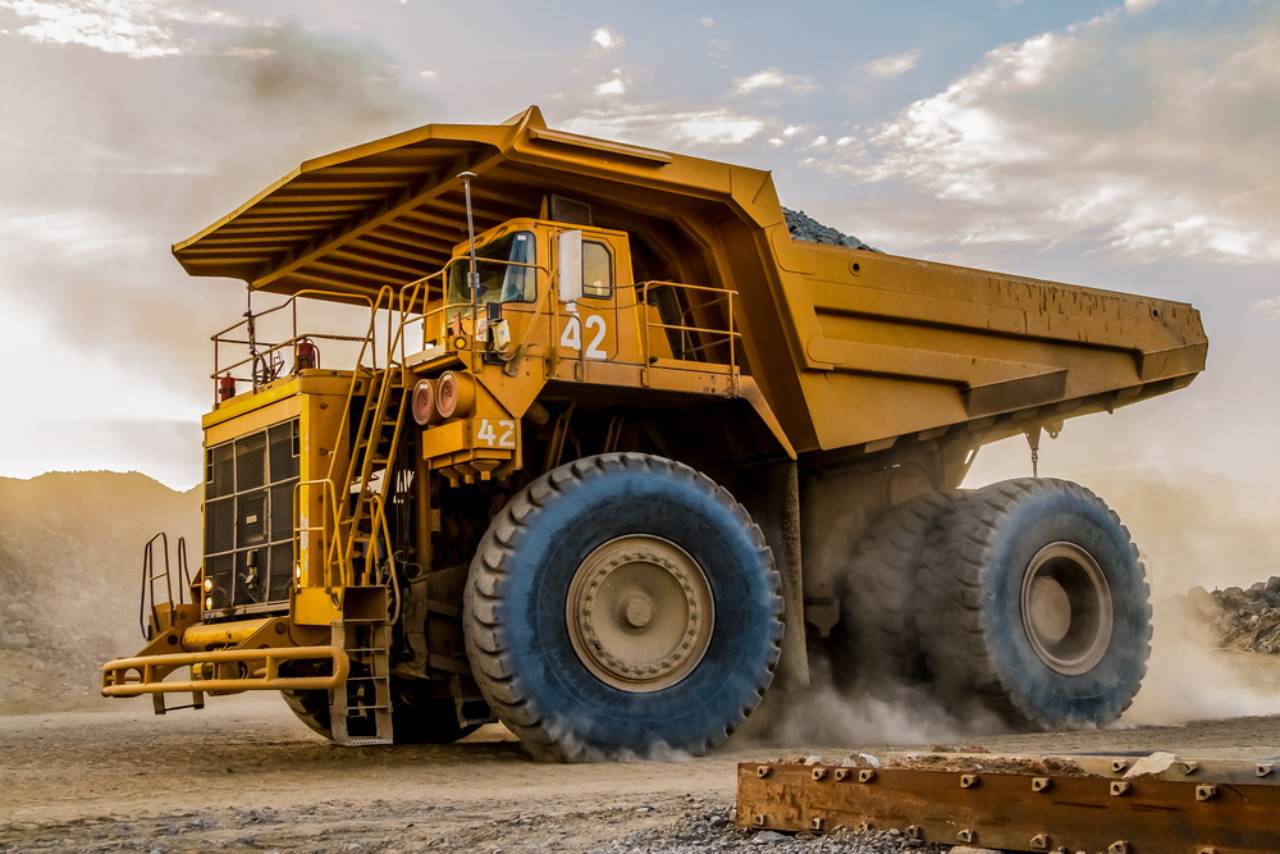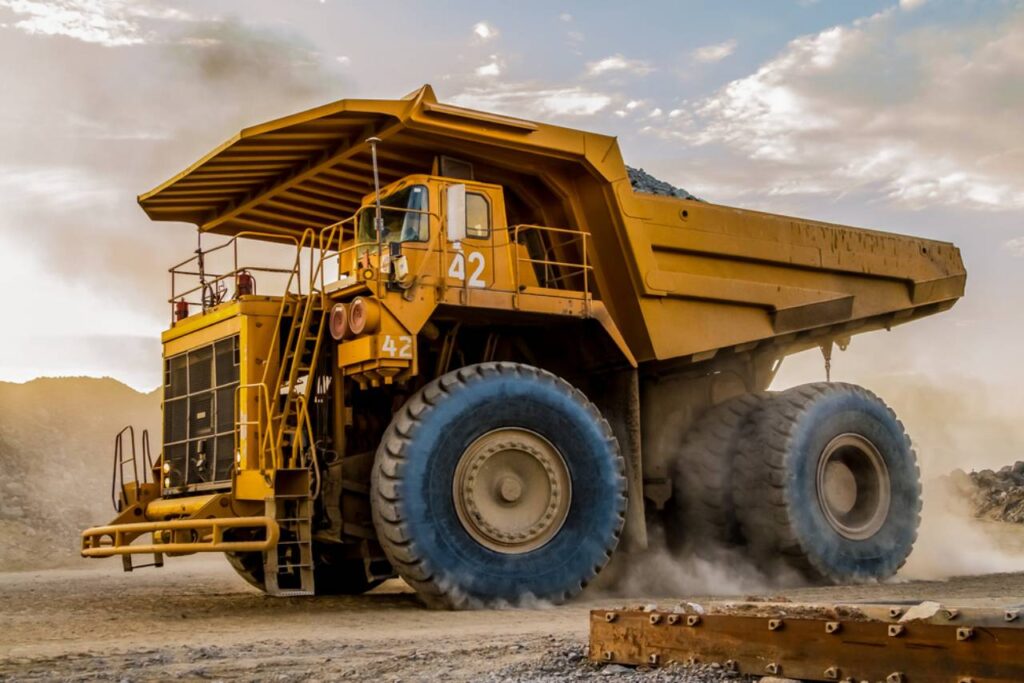 Dump trucks and skid steers are great, but sometimes you need something a bit bigger and tougher on surfaces.
Off-highway trucks are huge trucks designed to work in unfinished environments in mining and dirt-hauling jobs.
Due to its heavy use in the mining environment, the term "dump" is not used to define these trucks. They are commonly known as haul trucks as they are strictly off-road machines.
18. Utility Vehicles
Moving from one location to the other in your construction site can be tiring, especially if you're in an overseeing role. Utility vehicles are popular machines that come in different shapes and sizes.
Utility vehicles on worksites are crucial because they can do light work other than transporting people, such as hauling materials, safe transportation in hazardous areas, landscaping, etc.
They can be four or six-wheeled with various details and custom features.
19. Tower Cranes
Another common construction equipment is a tower crane. It consists of wire ropes, chains, and sheaves used to lift and move heavy material across a site.
Tower cranes have a simple lifting mechanism to lift heavy objects beyond the capability of a human being. The T shape uses a balance to offset any upward movement for lifting heavy materials.
Cranes are particularly common in ports for loading and unloading freight or in manufacturing sites for assembling large equipment. It can carry anything from concrete blocks, containers, frames, steel trusses, etc.
Typical tower cranes have a cabin on top which may sit several hundreds of feet above the ground.
20. Mixers
A simple hand drill with a blade may not get the job done when you want to mix large batches of concrete.
That's where mixers come in. It resembles a large rotating drum that allows concrete to mix evenly in large batches.
Mixers can be set up in construction sites or attached to trailers for transportation. Concrete companies have the latter to cater to clients who need preset concrete in large construction projects.
21. Electric Rope Shovels
Electric rope shovels are crucial to mining projects and probably explicit to this environment as they can handle heavy, rugged materials such as ore and overburden.
It has few moving parts and lasts longer than most equipment on this list. The electric-powered rope is also easy to operate and maintain.
An electric rope shovel may also replace the work of a dragline at a smaller scale by moving materials from one place to another. You may find applications in construction, although very minimal.
22. Cold Planers
In road construction, asphalt has to be laid hot, but once it cools down, moving it is tricky. Specialized construction equipment is needed to remove the asphalt, and that's where cold planers come in.
A cold planer uses carbide cutters and rotating drums to remove asphalt and move it in a dump truck. Depending on the power, cold planers can perform in-depth or shallow removals.
The process is often dusty, and some equipment comes with water sprinklers to minimize pollution and maintain cleanliness.
Cold planers are specialized and are explicitly used to remove asphalt, especially in repaving. It may not have many functions, but only one is crucial to any road construction or repair.
23. Drum Rollers
Also known as road rollers or compact rollers, drum rollers are used in construction or commercial terrains to level the surface.
They have strong metal tires that compact the loose materials into a flat surface. But don't confuse drum rollers with compactors whose main feature is not on the wheels.
24. Manlifts
Building high structures require plenty of equipment, and one of them is a manlift. It is a small piece of equipment that helps people in buildings where elevators and lifts are not yet installed.
They are four-wheeled, small, and designed to lift only one person.
Manlifts, also known as personal lifts, or personnel lifts have three main types: belt-drive, self-propelled, and push-around.
Self-propelled manlifts– it is the smallest of the three and can raise a person or small construction material to 20 feet. The size makes it maneuver in small alleys and doorways within a building.
Push-around manlifts– it is slightly bigger than self-propelled and can go to heights as high as 50 feet. It also has enough space to fit a worker and a couple of tools in small spots. The push-around lift uses hydraulic wheels and a collapsible frame to move up and down through corridors.
Belt manlifts– it is the largest manlift with heavy-duty construction and retractable legs. With an extended neck, it can soar to heights of 34+ feet rotating 360 degrees. The joint on the neck allows it to maneuver through obstructions like power lines without alighting personnel.
25. Fork Lifts
A forklift is a small construction vehicle attached to a forked platform on the front of the vehicle used to carry and move cargo.
Forklifts are essential in warehouses, construction sites, and commercial storage facilities. It uses hydraulic cylinders and roller chain pulleys to lift heavy material upwards, and then the vehicle moves it to another location.
Forklifts are used in commercial sites when moving material in rough terrains over long distances. Though, they are more common in shipping warehouses for loading and unloading trucks with goods.
Other common areas you'd find a forklift include a dockyard, recycling plants, and snow plows.
26. Scissor Lifts
A scissor lift is vital in projects where a boom or telescope would not fit, particularly indoors.
It has a raising mechanism of "X" shaped supports and only moves in a vertical motion. The scissor lifts don't need a driver, but can be truck mounted for specialized use.
Like a manlift, scissor lifts use hydraulic jacks to carry one or two personnel. An electric version is ideal for light indoor work, while a gas-powered model could be good for adding extra lifting torque.
27. Wheel-Tractor Scraper
A wheel-tractor scraper is a heavy equipment used to transport loose-earth materials in preparation for ground leveling or grading.
It contains two parts; the front part is a vehicle with a driver's cabin, while the rear has a scraping machine.
The scraping machine uses a blade to cut through the soil where it is collected through a conveyor belt system and stored in the hopper.
Once the hopper is full, the tractor scraper can move the dirt and offload to a different location.
Wheel tractor scrapes come in different configurations, including:
Open bowl– needs a pushcart or bulldozer to help in loading dirt.
Tandem scrapers– it has a separate scraper and tractor engines allowing them to move through slippery surfaces or steep areas. It requires a push cart when offloading the materials.
Pull-type scraper– utilizes a farm tractor or a bulldozer to pull. They can be used individually or connected in two or three for maximum load.
Other common kinds of wheel scrapers include augers, tandem push-pull, and elevating scrapers.
28. Articulated Hauler
In areas where a dump truck cannot maneuver, articulated haulers come in handy. It is a type of dumper with an off-road, all-wheel-drive capacity with a distinct power unit.
An articulated hauler consists of a narrow trailer and dump box connecting the driver cab through a pivoting hinge.
They are used in challenging worksites with poor pavements or roads where a dump truck would fit.
The all-wheel mechanism means steering is accomplished through hydraulic cylinders that power both axles. It provides a low center of gravity, adaptable to rough or slippery terrain.
Articulated haulers are conventional in mining, recycling, aggregate hauling, and utility construction sites.
29. Forwarder
A forwarder is used in forestry and logging jobs to transport felled logs to the loading sites.
The eight-wheeled machine is designed for off-road terrains, with most models having a front dozer blade to help clear pathways and stack up logs.
Forwarders also have models with tracks instead of wheels where the terrain is unbearable. It is specific forestry equipment designed to best suit forestry operations needs.
Forwarders work hand-in-hand with harvesters; they help move felled timber to a loading zone.
The loading capacity of forwarders is pretty decent and ranges from 1 ton to 25 tons depending on the model. They may also come in rotating cabs, automated boom control functions, adjustable stake heights, and more.
30. Knuckleboom Loader
A knuckleboom loader is heavy equipment designed to carry logs. It is similar to a forwarder but much larger, with tracks instead of wheels.
The machine is mainly used in loading zones where logs have been accumulated by the knuckleboom loader.
It has a crane system to carry the logs and place them on trucks for transporting. Knuckleboom loaders have rotating cabs and rarely move long distances.
New models like the John Deere 437D have smart hydraulic systems that sense the amount of load and use the exacto power to lift. It improves efficiency, performance, and fuel consumption.
31. Harvester
A harvester or a combine harvester is heavy industrial equipment used in modern farming. As its name suggests, it helps in the large-scale harvesting of crops with three main functions; reaping, threshing, and cleaning.
This allows crops to be harvested faster and more efficiently in large amounts. A harvester consists of a front header with cutting blades rotating in a motion similar to the wheels.
The harvester headers cut crops with a cutter bar from the bottom and move them into the threshing drum through a conveyor belt.
Inside the threshing drum, grains are separated from the stem and straw as they are further directed to the screen for further processing.
A combined harvester is purely made for farming as it has specific features and functions beneficial to crop harvesting. Nevertheless, it is critical equipment for modern farmers.
32. Skidders
A skidder is heavy equipment that cuts trees and pulls them out of the forest. Unlike forwarders which lift logs off the ground, skidders carry and drag the tree logs as they move to the loading zone.
There are two main types of skidders; grapple skidders and cable skidders. A cable skidder is attached to a series of cables that must wrap the logs before being moved.
They are more likely to involve a second operator to help with wrapping. Cable skidders are efficient in hilly areas and mountains where the grapple would be prone to damage.
Grapple skidders don't need a second operator and have a tong-like grappling system, similar to a forwarder. The grappler is attached to a boom and lifts logs quicker, especially when moving on smoother surfaces.
Both types of skidders have safety measures to protect the operator during movement. The cab is enclosed in a steel cage, which prevents falling tree limbs or debris harm the operator.
FAQ
What is the name of a heavy construction machine?
A heavy construction machine is commonly known as an "earthmoving equipment" or simply "heavy equipment." These machines are crucial for various construction and infrastructure projects due to their capability to perform tasks like digging, grading, lifting, and moving heavy materials.
What is an example of heavy equipment?
An example of heavy equipment includes machines like bulldozers, excavators, cranes, loaders, backhoes, and dump trucks. These machines are specially designed to handle large-scale construction tasks and are essential for the success of construction projects.
What kind of equipment is used in construction?
Construction relies on a wide range of equipment, including heavy machinery and tools like concrete mixers, pavers, rollers, and jackhammers. Each type of equipment serves a specific purpose in construction, from laying foundations to erecting structures and finishing surfaces.
What is heavy machinery in construction?
Heavy machinery in construction refers to the large and powerful equipment used to perform a variety of tasks on construction sites. This equipment often includes excavators, bulldozers, cranes, and other specialized machines designed to handle heavy loads and tackle the challenging demands of construction projects. Heavy machinery is indispensable in modern construction and contributes significantly to efficiency and productivity.