Best Farm Equipment Financing (2023 Top 15)
As a farmer or agricultural business owner, you know how important it is to have reliable equipment to ensure your farm runs smoothly.
But, let's face it, purchasing and maintaining farm equipment can be a significant financial burden, especially for small-scale farmers or those just starting. That's why the best farm equipment financing can be a game-changer.
We want to help you explore the different types of financing options available for farm equipment, including:
Loans
Leases
Equipment-specific financing programs
I'll also provide advice on how to determine which financing option is best for your farm, as well as tips on how to qualify for financing and negotiate the best rates.
We understand that every farm is unique, and that's why it's important to have financing options that fit your individual needs. Whether you're looking to purchase a new tractor, upgrade your irrigation system, or invest in other essential farm equipment, we're here to help you navigate the financing process, so you can focus on what you do best – farming.
1. AG Direct
AG Direct has been financing agricultural businesses and operators for 25 years. It is powered by Farm Credit and offers financing for small and large-scale equipment. Since the AG Direct website lists its rates transparently, you don't have to risk your credit requesting a quote.
Its financing tiers start as low as $5,000 and can go beyond $200,000, making it perfect regardless of whether you want to finance a part of a small purchase or the entirety of a large one.
With rates averaging 6.75% to 8.25% and tenure of up to 7 years, AG Direct allows middle-class farmers access to new and pre-owned equipment without the pressure of rushed returns.
2. John Deere AG Equipment Financing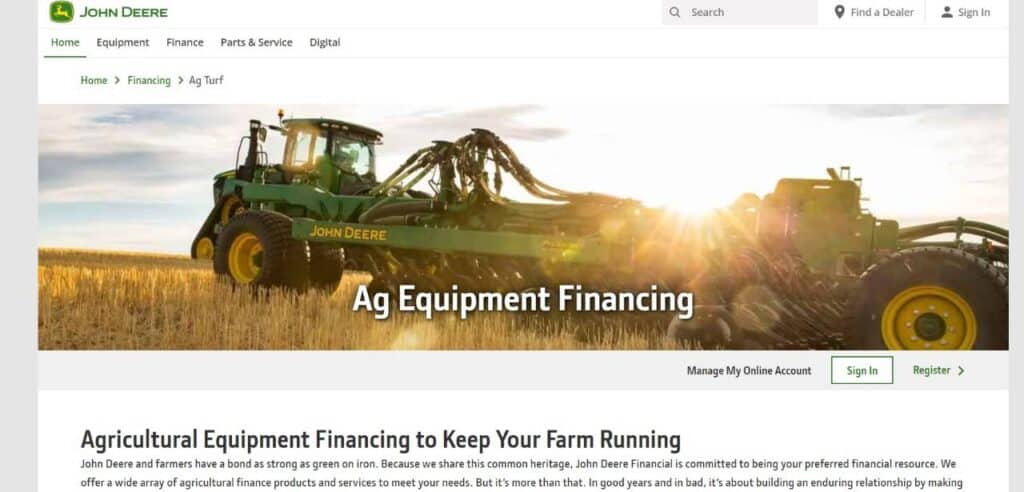 John Deere is a name that needs no introduction, especially in agriculture. It is a major player in the agricultural machinery market and has dealerships in almost every farm-friendly state.
Its equipment financing program allows customers to purchase tractors and other farm equipment in installments.
You can use the handy interest rate calculator on the John Deere website's AG Financing page to understand your expected payment plan, interest rate, and the time it will take to pay off the equipment.
3. American AGCredit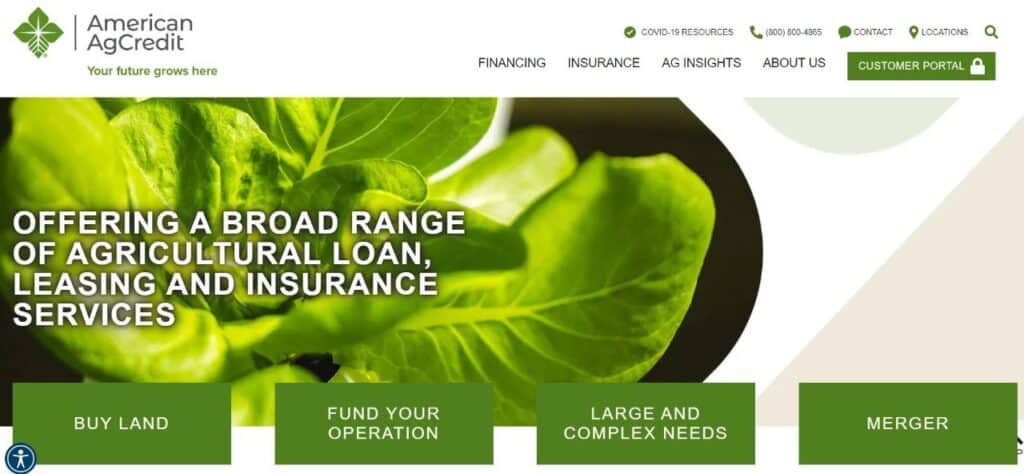 American AGCredit specializes in financing farm equipment purchases. From Combines to Tractors and Balers to Logging Equipment, American AGCredit has all kinds of leasing options. AGCredit isn't as transparent about its rates, though.
So you have to make an inquiry and disclose the required information in order to receive a quote. But given that AGCredit finances and insures all types of farm-related assets, including farmland, it is likely to offer industry-standard terms.
The flip side of that is that it will expect industry-standard credit. Be prepared to show a 650 or higher credit score.
4. Farm Credit Express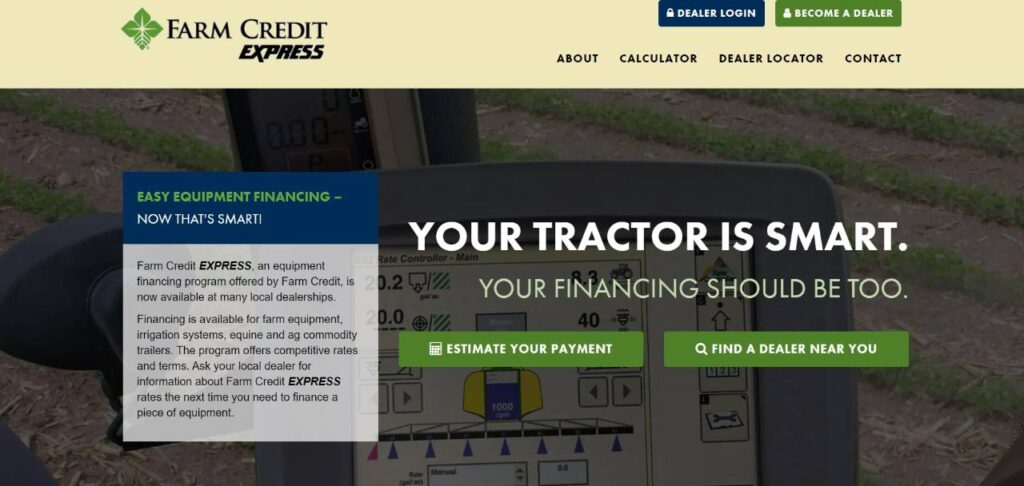 Farm Credit Express is the online platform to locate dealers who offer express agriculture-related financing. Unlike broader agriculture financing, express financing can't be used for land loans, farm site construction, etc.
Farm Credit Express is limited to equipment financing and is offered by partnered dealers across the US.
There are over 1200 dealerships in the US that offer Farm Credit Express. Aside from a large network of dealers, this financing provider has a reasonable interest rate and tenure terms. However, your credit score needs to be north of 680 in order to qualify for a loan or a lease.
5. Farm Credit East
If you're based in the Northeastern United States, then you can use Farm Credit East's credit line facility for a variety of agriculture-related expenses, including equipment acquisition, servicing, and upgrades.
Alternatively, you can get equipment in installments via AgDirect, a Farm Credit-powered agricultural financing tool.
To get started with your application, you must first contact your nearest Farm Credit East office. If you're not in the Northeastern US, then you would need to get AgDirect financing, which is not restricted to Northeast agriculture.
Credit East's financing net is much wider than AgDirect, so northeastern farmers and agricultural business owners should make an effort to establish contact with their respective Farm Credit East offices.
AgDirect is available directly from equipment dealers, but Credit East can provide loans for land acquisition, operating expenses, and even rural home purchases.
6. SBA Loans
According to the USDA, agriculture and related industries have added $1.264 trillion to the US GDP in 2021. So, it makes sense that there are hundreds of agriculture-specific loan providers.
But that doesn't limit farmers to agricultural financing alone. Almost any strong agriculture-based business can apply for an SBA loan, provided that the applicant has strong credit.
SBA loans are notoriously hard to qualify for but businesses with consistent revenue and strong credit. In some cases, the FICO score of the owner is considered alongside the business credit score.
Anyone who can qualify for an SBA loan can also qualify for a bank loan. But you should probably focus on getting approved for SBA financing first because of the relatively relaxed terms.
7. mCash Advance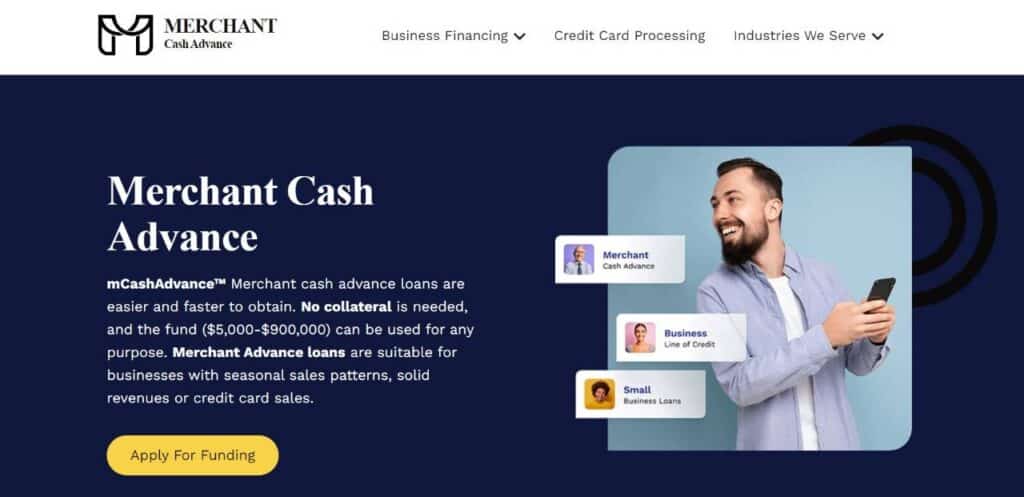 If you have poor credit, you might have to get your farm equipment financed via a cash-advance credit line. MCash Advance offers financing services to people with bad credit based on a fundamental analysis independent of the borrower's credit history.
The fact that MCash Advance doesn't shut out borrowers based on their credit score doesn't mean that the provider accepts everyone. For farm equipment financing, you need to prove your ability to pay off the equipment.
This can be done via collateral or through proof of strong recurring revenue. Depending on the predictability of your income, the cash advance provider can offer financing of up to $900,000.
8. PersonalLoans.com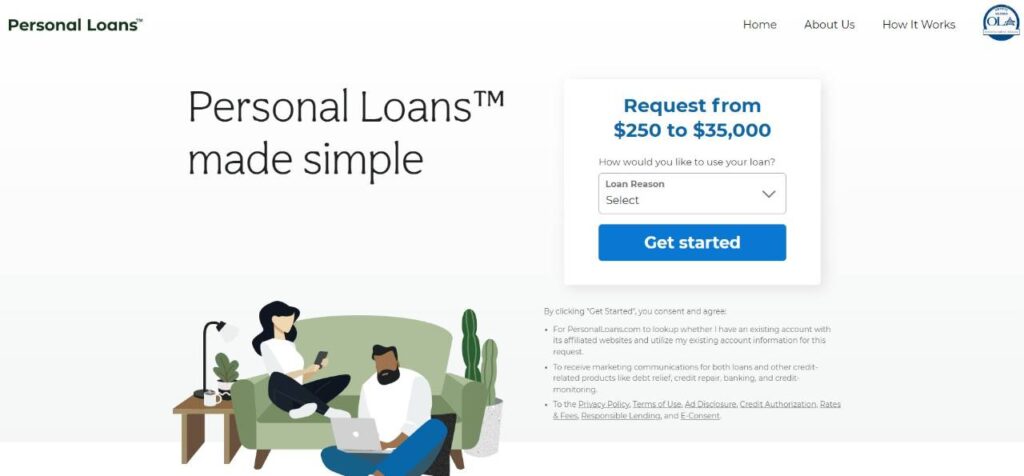 Another standard financing solution for people and businesses with poor credit is PersonalLoans.com. The website isn't a credit provider, but it is a financing connector. By signing up for an account on PersonalLoans.com, you can get access to the site's network of private lenders.
Your credit score is taken into account but it isn't the make-or-break factor in whether you get approved for a loan. However, it dictates whether you get standard financing terms or interest rates high enough to border on loan sharking.
It doesn't hurt to make an inquiry on the network, but it can hurt to accept a loan offer without reading the terms.
PersonalLoans.com acts as an advertiser and isn't responsible for your experience with the loan-providing entity. Due diligence is important in all financing contracts but has special importance in such arrangements.
9. Seller Financing
One way to go about equipment financing is to simply ask the seller for an installment structure. Almost all farm equipment dealers in the US offer financing from a credit-providing partner.
In most cases, the partner is an established financial institution in the Farm Credit system. In some cases, a private seller might accept your proposal to pay off the purchase in installments. That, however, depends on how motivated he is to sell.
10. Triton Capital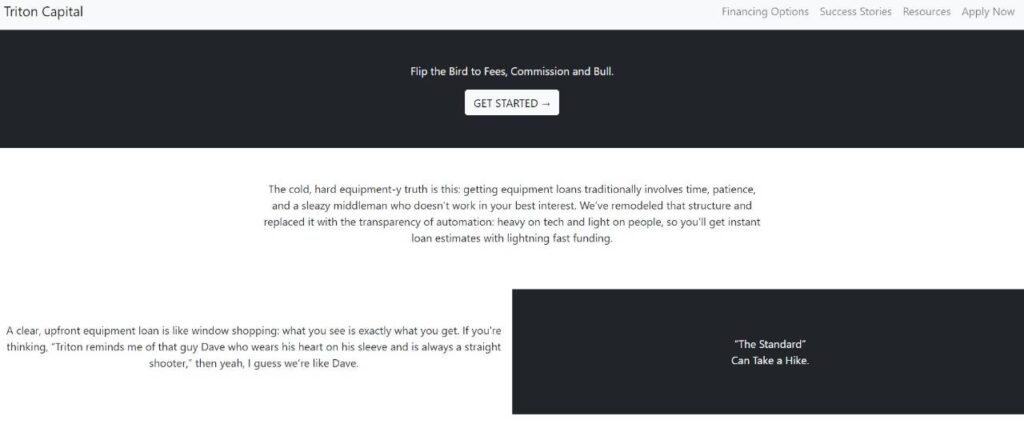 Triton Capital provides broader business loans that encompass equipment acquisition expenses as well as operating expenses.
On paper, the provider can deliver $250,000 in credit, though most applicants get under $50,000, especially if they have average credit.
'Still, Triton Capital remains one of the financing avenues that are open to new agriculture businesses that have yet to build up their credit past the 650 mark.
The interest rate on its loans starts at 5.99%, though the specific rate you might get may be higher depending on the amount you borrow, the loan tenure, and your credit score.
11. Balboa Capital
Balboa Capital can finance equipment purchases under $500,000 with a 2 to 3-year pay-off window. If you borrow a fraction of the total equipment cost, you might have a shorter return window.
Balboa Capital is comfortable financing business-related expenses only when the borrower's credit score is over 620. It also requires the borrowing business to have over $100,000 in annual expenses.
12. Acorn Finance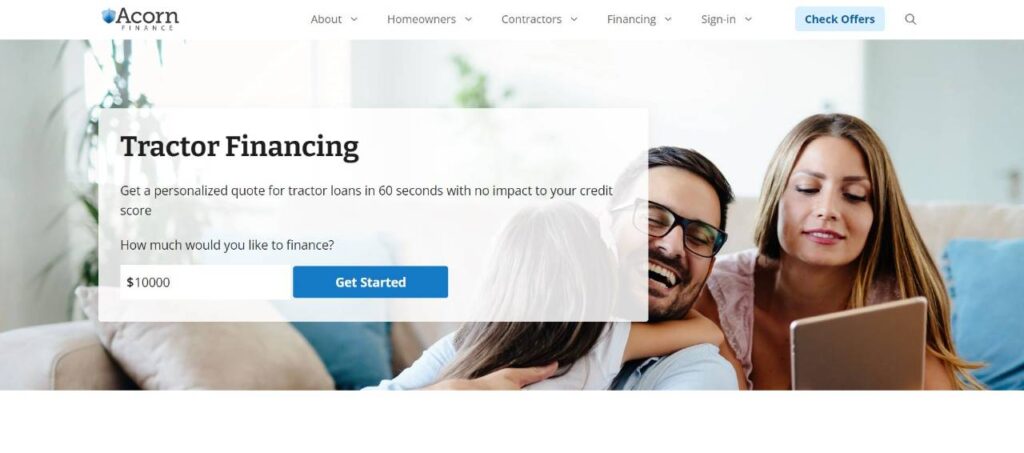 Usually, business credit providers do not explicitly advertise themselves as bad-credit-friendly. Acorn Finance positions one of its services as the "Easiest Tractor Financing for Good or Bad Credit."
That's because it isn't a credit provider.
Acorn Finance is a term-comparing platform that is partnered with multiple financial service providers.
It has a pre-qualification mechanism that gets you a quote without a hard inquiry against your credit score. You get multiple lenders' offers and can compare the terms to see the one that suits you.
This kind of deal flow pits lenders against one another to give the best deal to the borrower. So, you can expect favorable terms from at least one lender.
In most cases, no lender creates a bespoke offer for the borrower. Instead, the term sheets are auto-generated from the publicly available interest-rate and loan-term information on different credit providers' websites.
Even if you don't plan to use Acorn Finance's credit-providing partners, you can use the platform to get the pulse of the market. It can help you set expectations regarding interest rates, pay-off tenure, etc.
13. National Business Capital eQuickment Financing
National Business Capital is a financial institution that offers a wide range of lending and financing services. One of its financial products is eQuickment Financing, which is quick equipment financing for businesses regardless of the owners' credit score.
It is often referred to as the friendliest financing option for business owners with poor credit.
One of the reasons for this is its no-collateral policy.
National Business Capital doesn't ask for collateral or an upfront fee to "check commitment."
It also allows business owners to choose the dealer/vendor instead of restricting them to specific partners.
When a financing provider partners with a major vendor, the borrower becomes a captive buyer, allowing the vendor to charge more. With eQuickment-backed financing, you can buy farm equipment from the dealer who gives you the best price.
You can apply for financing within a minute and can get an approval decision within 24 hours.
The ideal lender has over 650 FICO scores, over six months in business, and over $120,000 in annual revenue. If you check these boxes, you can get farm equipment financing from almost any lender.
But with National Business Capital, you uncheck one or two boxes and still get approved for a loan.
If you have over 650 FICO score, then you might not need to show your business history and annual revenue. And if your business produces over $120,000 in annual revenue and you have documentation to prove this over the past six months, you might get financing with a FICO score lower than 650.
14. Crestmont Capital
Crestmont Capital offers equipment financing and other types of lending products. You can borrow $10,000 to $2,000,000 depending on the type of equipment you intend to buy, your business history, and your annual revenue.
Crestmont Capital takes your credit score into account but doesn't make good credit the prerequisite for financing approval. In fact, it positions itself as a "bad credit equipment financing" provider in at least one instance.
15. BNC Finance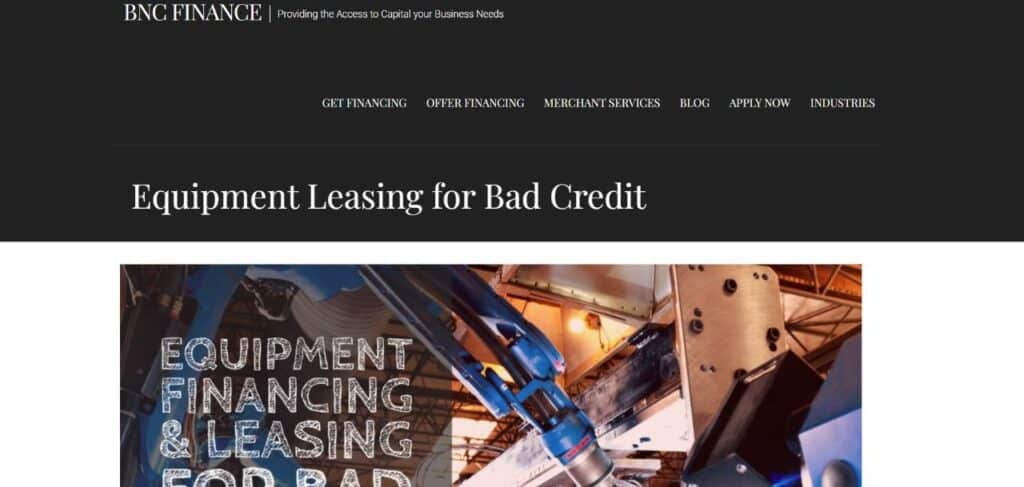 BNC Finance's equipment financing product has one of the simplest stream-lined processes. Its requirements are upfront and include three years of industry experience. If you don't have three years of experience, then you have to have a FICO score of 550 with two years in business.
In case your business is new, then you must have a 650 FICO score. You can borrow between $15,000 and $150,000 after applying for credit with your signed request and a quote or invoice for the farm equipment you want to buy.
Recap: Top Farm Equipment Financing Options in 2023
Heavy Equipment Appraisal is committed to fostering the success of farmers and agricultural company entrepreneurs.
Although we are aware that having dependable equipment is crucial for operating a successful farm, we are also aware that it can be life-changing expensive. You can discover the ideal solution that satisfies your individual requirements and financial constraints by investigating several financing choices like loans, leases, and equipment-specific financing plans.
Do your homework, study the small print, and engage with a trustworthy lender who is aware of the difficulties and opportunities the agricultural industry faces!
We firmly think that your farm can prosper and expand for many years to come with the appropriate tools and funding. We are therefore here to support you every step of the way, whether you are just starting out or looking to upgrade your current operation.
FAQ
Which loan is best for farmers?
The best loan for farmers often depends on their specific needs and financial circumstances. For long-term investments like land purchase, USDA Farm Service Agency (FSA) loans or agricultural mortgages may be ideal due to favorable terms and low interest rates. For short-term expenses, operating loans from local agricultural banks or credit unions can provide working capital.
Where is the best place to get a farm loan?
The best place to secure a farm loan is typically a local agricultural lender, such as a community bank, credit union, or Farm Credit System institution. These institutions often have a deep understanding of the local farming industry and can offer tailored loan products. Additionally, the USDA's FSA provides government-backed farm loans and is another valuable resource for farmers seeking affordable financing.
What is the best loan to buy a tractor?
When purchasing a tractor, a equipment loan or equipment lease is often the best choice. These specialized loans are designed for acquiring agricultural machinery like tractors. They offer competitive interest rates and terms specifically structured to match the tractor's useful life.
Where is the best place to get a loan for a tractor?
Local agricultural banks, credit unions, and agricultural equipment dealerships are among the best places to secure a loan for a tractor. They can provide expertise in farm equipment financing and often have relationships with manufacturers, allowing for convenient financing options. Online lenders and national banks may also offer tractor loans, but local lenders often offer more personalized service and knowledge of local farming conditions.