Kubota vs. John Deere Tractor (2023 Comparison)
When searching for utility tractors, two key brands pop up: Kubota and John Deere. They are both leaders in the agriculture sector, and you'll only notice slight differences.
This article tries to settle the dust on the age-old debate between Kubota and John Deere. It describes features in detail and proper insight to choose the machine that fits your needs.
The main difference between Kubota and John Deere is the make and design of the equipment. Kubota tractors are made of strong metals for a sturdy appearance and longevity. John Deere tractors are made of strong plastic polymers which are four times stronger than the plastic we see daily.
The only issue with plastics is they break with severe impacts.
All buyers need to know the differences between Kubota and John Deere to help them identify features that will serve them well.
The rest of this article looks at the key features, differences, and a few examples.
| Category | Kubota | John Deere |
| --- | --- | --- |
| Tractor material | Metal | Sturdy composite plastic |
| Transmission | 2 / 3-range hydrostatic transmission | 2 / 3 -range hydrostatic transmission |
| Pedals | Treadle pedals | Standard pedal design |
| Av. Price for Utility Tractors | $30,000 | $20,000 |
| Key Features | Skid Steer Quick Attach (SSQA), factory cab, Quick Park Loader (QPL) | Quick Attach (QA), Autoconnect Deck |
Kubota Overview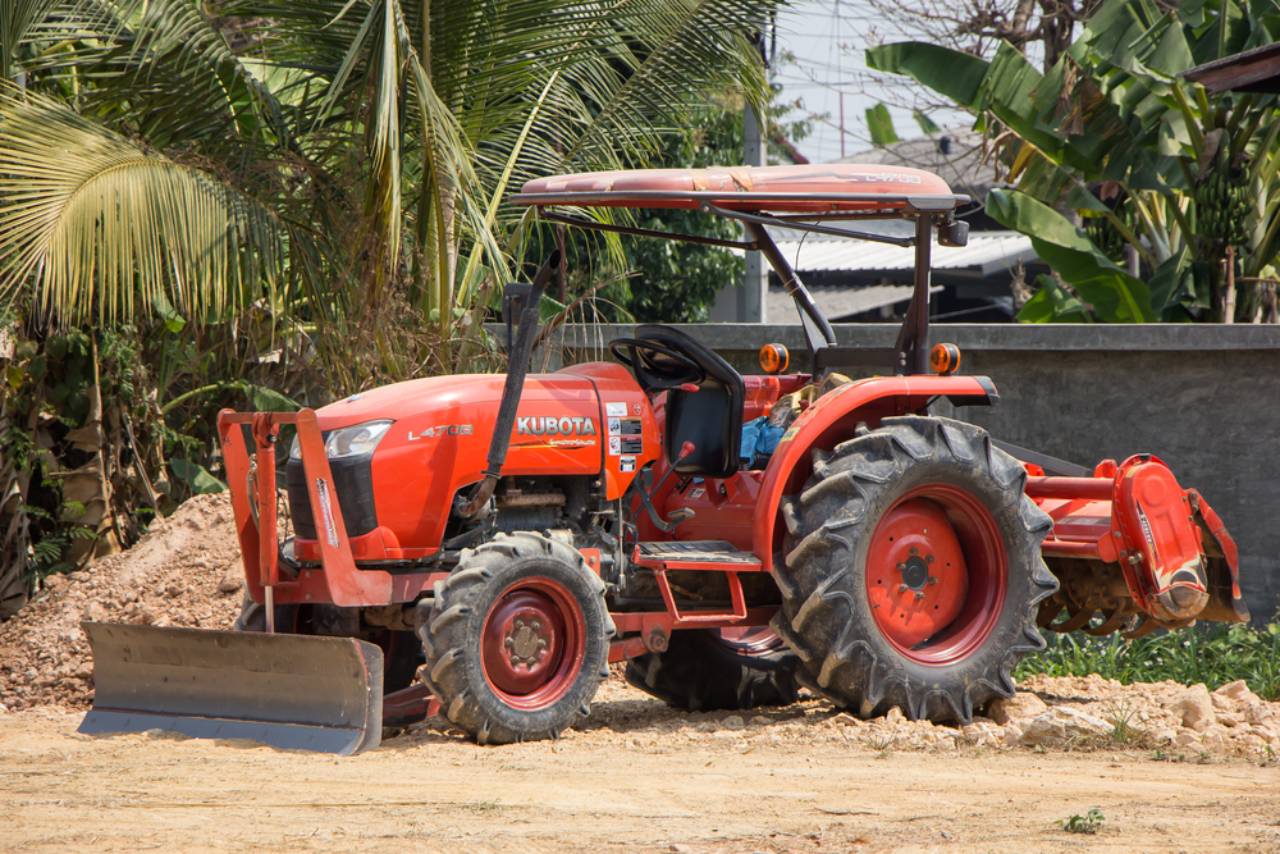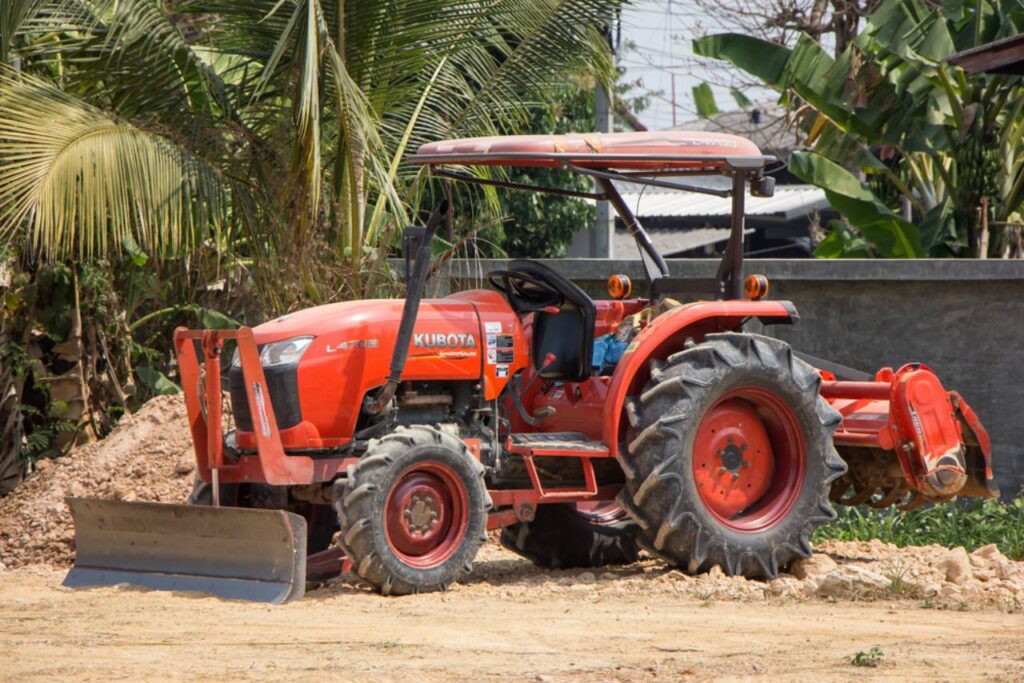 Kubota tractors are popular because of their design, as they are made of strong metals. They have a shiny appearance that lasts years when well-maintained.
Kubota's metal body is perfect for high-impact activities. But like all metals, they are susceptible to rust and can be a liability in humid environments.
Kubota tractors are quite technical to use and though they have a 3-range hydrostatic transmission, some features are manual.
For instance, you'll have to use your toe and back heel to switch between the brake pedal and the accelerator.
Long-term use of the tractors eventually wears down the metal parts and the dents may not be as appealing.
John Deere Overview
John Deere has a wide range of tractors, all made of plastic polymers.
The plastics are stronger than standard ones and can retain a shiny appearance for years.
John Deere's tractors don't rust and perform great in humid environments.
John Deere has easy-to-operate tractors as the positions of moving parts and gears are placed to suit your ergonomics.
The reverse and forward pedals are selected side by side, and the brake sits right next to the left foot.
Though the pedals and brakes are in excellent spots, they may occupy a larger floor space. John Deere tractors may be easy to operate but have only two transmissions.
So, you may find yourself driving at speeds slower or faster than usual. Finally, it is easy to replace or add new attachments as you don't need extra parts to connect the implements.
Comparison of John Deere Vs Kubota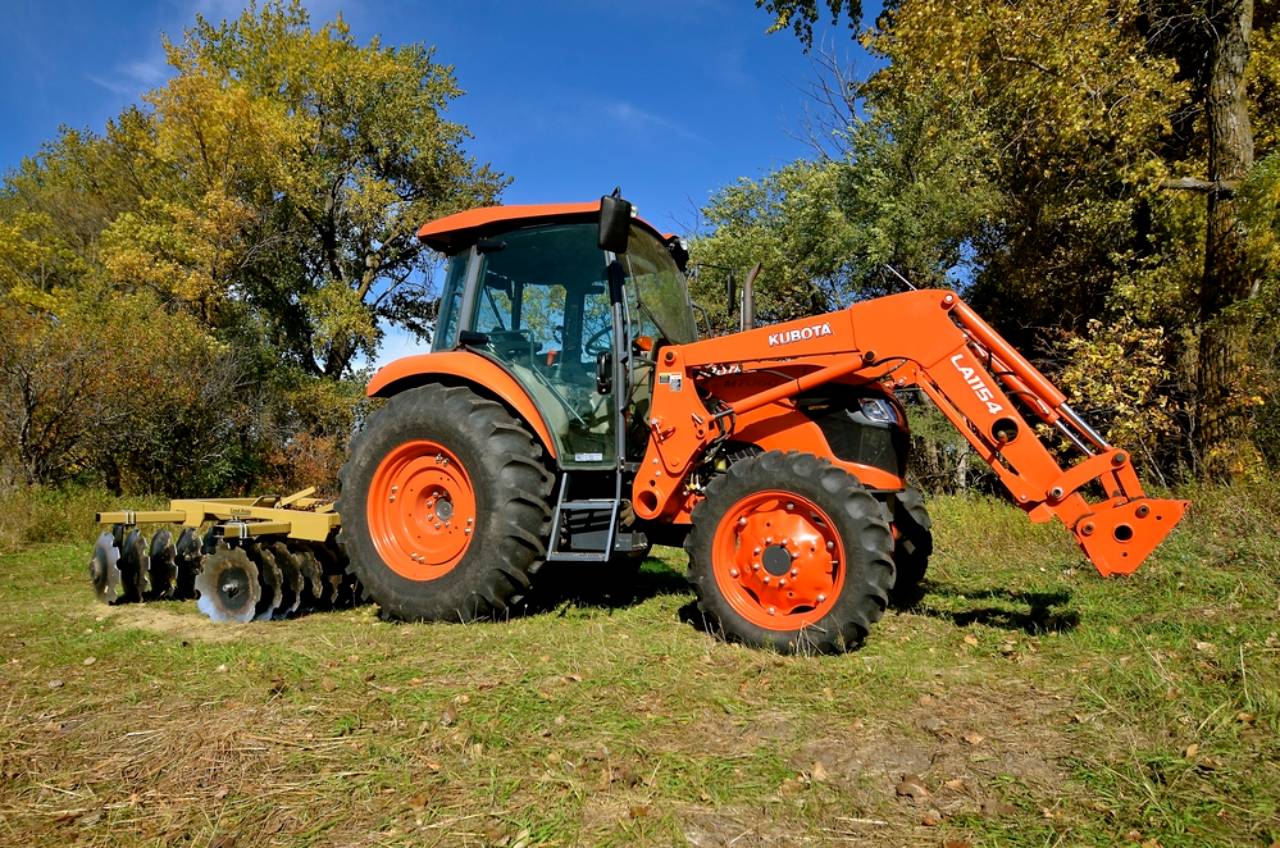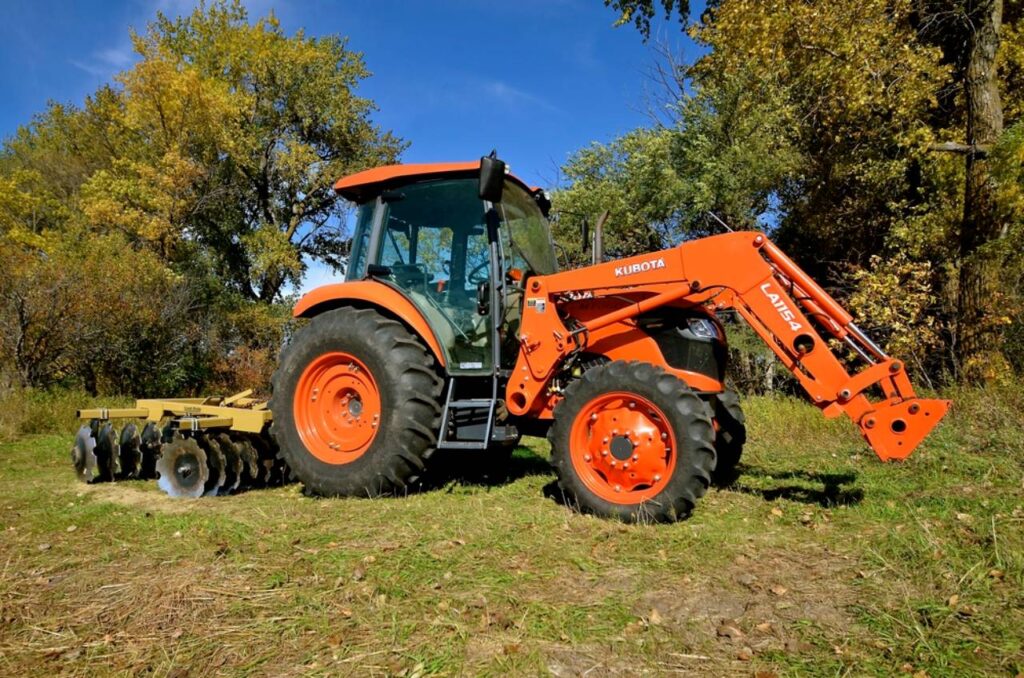 We already know that these brands are top quality and are at the peak of building efficient reactors and machinery.
While their specs are so close, each tractor managed to edge out the other in certain parts which we will discuss below.
Essentially, there is no overall winner, but rather a comparison of strengths and weaknesses.
Material
John Deere is known for making sturdy tractors and pretty much all models are made of composite plastic.
Kubota makes its tractors with stainless durable steel that claims to last a lifetime.
But how do these matter?
Metal looks great on the surface- it is sturdy, looks better, and sure stands the test of time. It also has some subtle drawbacks that can turn awry pretty fast.
For instance, exposing the tractor to high-impact areas accelerates the formation of rust and dents, and paintwork fades away easily.
Plastic may get damaged over time but it won't be affected by humid environments that lead to rust.
John Deere bases its brand on building good-looking tractors, even after years of use on farms.
They look better than Kubota tractors and it is obvious they are our winner for this section.
Transmission
When you get into the tractor, you want to have as smooth an experience as possible.
The gears and levers need to be easily accessible and offer the needed power or torque to move around your farm. Transmission is the key to all these.
Kubota has standard transmission features on all of its tractors except the BX series.
Its 3-range hydrostatic transmission allows you to switch between three modes (L/H/M) and maneuver through various terrains.
John Deere tractors come with a standard 2-range transmission on most tractors. You may find 3-transmission on premium John Deere models like the 3R series.
While both have the 3-transmission feature, Kubota has more control and range for what to choose.
Drivers usually prefer the M gear to provide enough power on the site without working off the engine.
On this one, our winner is Kubota with plenty of versatility.
Gear Joystick
The gear is one of the busiest parts a driver controls in a tractor. It has jointers and bearings that allow you to move it up and down and curl it in different directions.
John Deere and Kubota have gear controls on the front end of the tractor and although both are sturdy, Kubota's gear is well-placed and easier to control.
Learning how to use John Deere's joystick takes some skill and patience.
So, our winner is Kubota.
Pedals
John Deere's tractors have a signature simplistic design, particularly in floor pedals. It has well-balanced pedals on both sides with a break on the left side of the floor panel.
Braking is easy even in emergencies due to its location. The floor space may be a bit squeezed, but the overall driving experience is comfortable in John Deere tractors.
Kubota's design on the front consists of a treadle pedal. It may require more experienced drivers to operate.
The accelerator pedal is right next to your toe and the reverse is at the back of your foot.
The brake pedal is located on top of the accelerator which is not the best position for safety purposes.
John Deere has a simpler and safer approach on the pedals and they are outright winners in this round.
Price
A tractor is not a cheap machine and it is important to consider price when looking at the two models.
Of course, the price is not always proportional to the quality and more often we wouldn't outright recommend cheaper models.
An average Kubota tractor costs about $30,000. The price comes with the longevity and the value of the machine itself.
Kubota offers solid machines and readily available parts for repairs. But the brand may not hold value due to frequent releases and a bit of inconsistency.
John Deere has competitive prices compared to tractors in the same series starting at only $23,000.
It manufactures tractors that look like they would last a year and end up serving you for a decade.
This technology has made John Deere's equipment valuable and refurbished models depreciate at a lower rate than Bobcat, Kubota, and other brands combined.
It's also worth noting John Deere offers tractors at a higher price range and the most expensive, the John Deere 9RX Series Track Tractor retails at a staggering $555,000.
That's a little over the top, but you should see what this big machine could do.
We'll have to go with John Deere for the price.
What is The Ultimate Draw When Buying Kubota Vs John Deere Tractors?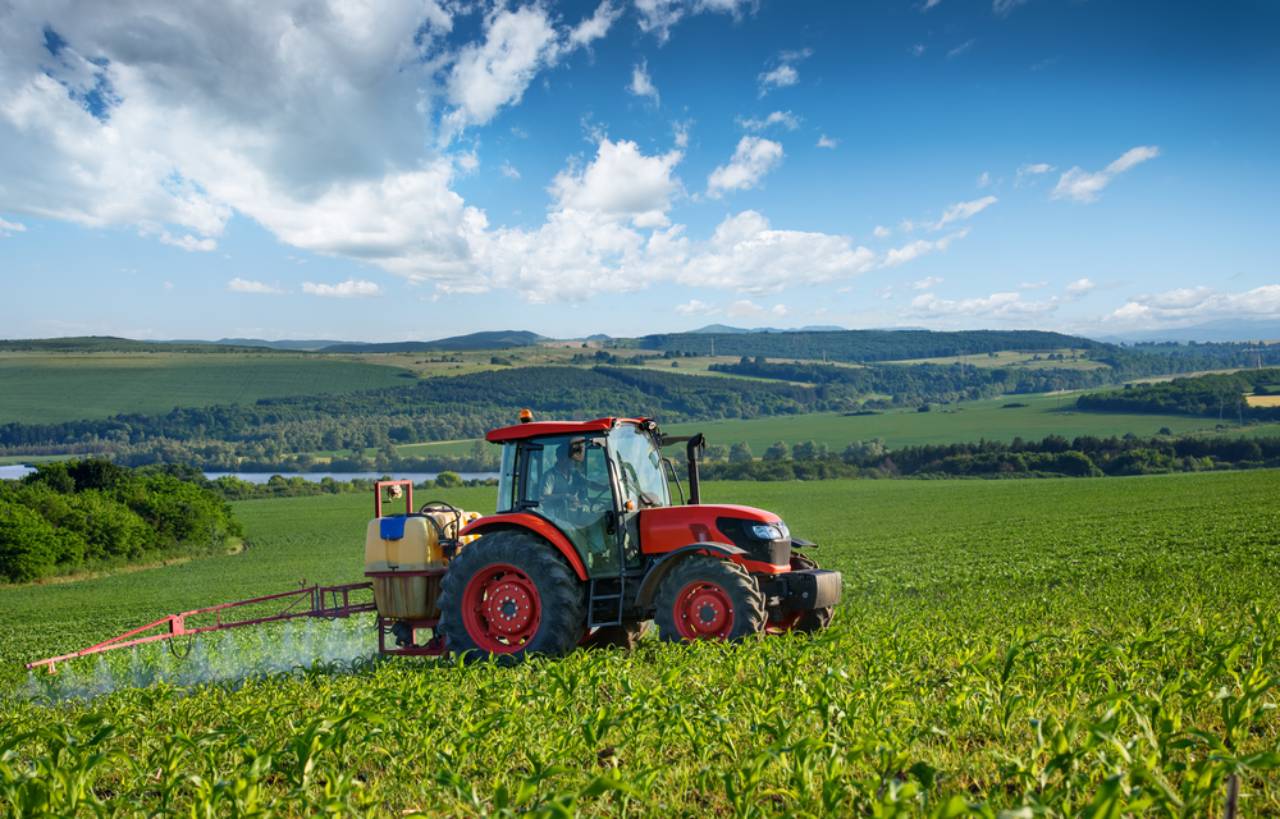 The major draw when purchasing the two farm equipment is the brand. Folks are more tuned to a brand they like and would rather buy a brand when the features are almost the same.
Almost everyone knows John Deere and Kubota is a quality brand as well. But when the two tie and have subtle differences, brand loyalists will make their decisions based on the brand.
Having such differences, however, make agricultural work easier and may prove to be a deciding factor for your next farm project.
What Are The Key Features That Make Kubota and John Deere Different?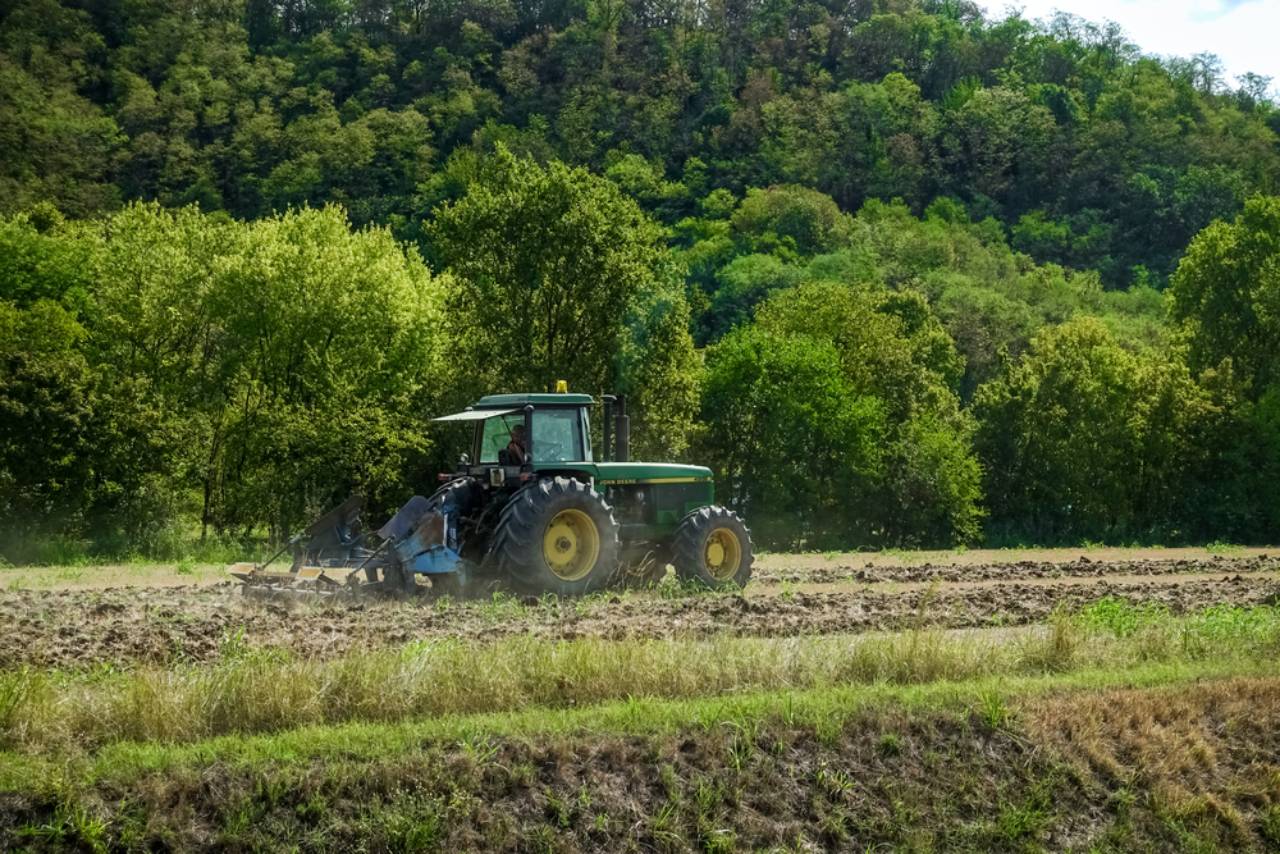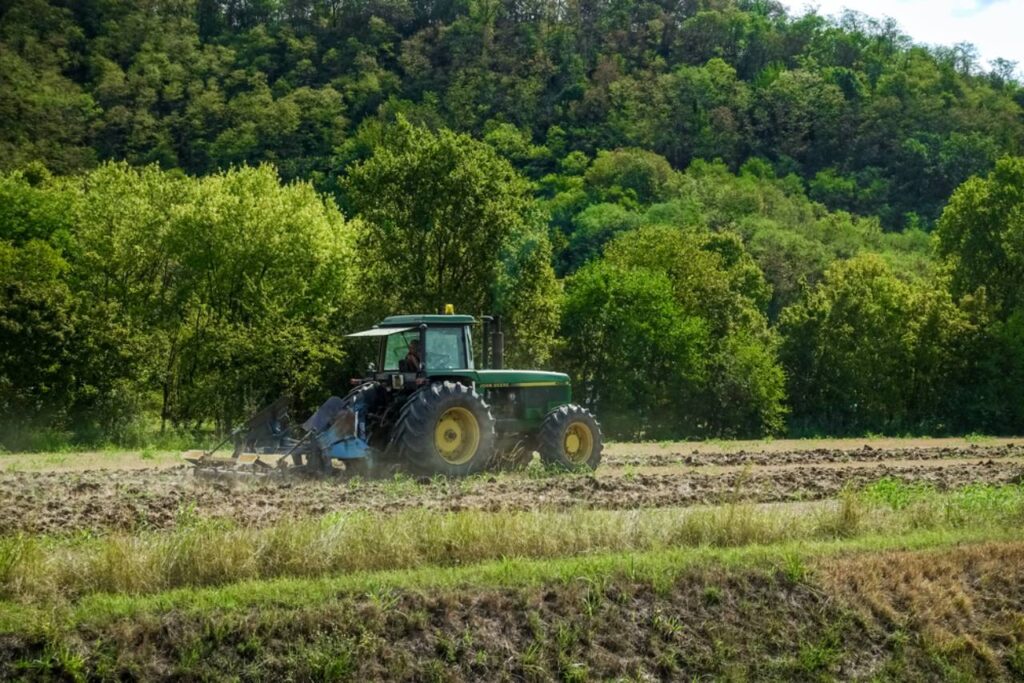 To help tackle specific projects, both brands have made slight improvements and unique features to improve efficiency.
SSQA (Skid Steer Quick Attach)
This attachment option is mainly available in Kubota machines as a standard option. John Deere has the QA (Quick Attach) system, although you can change it to an SSQA.
Cab on Smaller Units
John Deere has factory cabs on its units except for the 1 and 2 series. Kubota has a factory cab on all smaller units with a radio and AC for extreme weather conditions.
For instance, the BX series has a reclining seat with soft cushioning and a high-back design.
Quick Park Loader
is available in standard Kubota models and comes as a standard setting. In John Deere, the QPL is optional and you'll need to change it manually before driving.
Auto Connect Deck
John Deere boasts its unique deck, making it seamless to attach a mowing deck. It has similar operations to the QPL which it already has.
Kubota does not have an AutoConnect Deck on any of its models because it is a trademark of John Deere.
Conclusion: John Deere vs. Kubota Tractors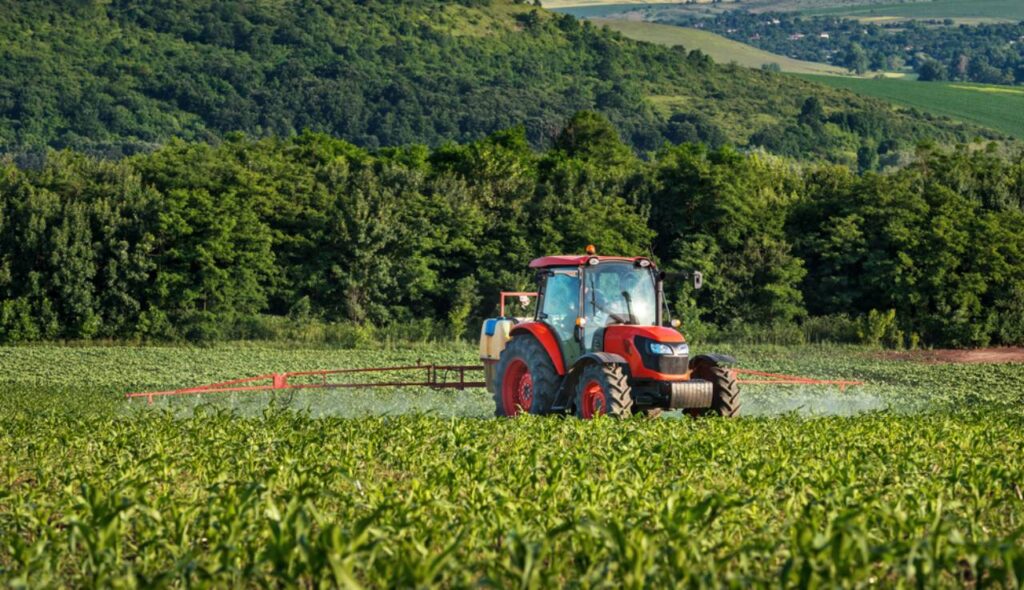 The agriculture sector has plenty of brands manufacturing tractors, of which Kubota and John Deere are undoubtedly the top manufacturers.
Their tractors are sturdy, last for a long, and make excellent farm equipment.
However, both Kubota and John Deere have some differences worth noting. Each is slightly better in some factors.
John Deere is a preferable tractor for adding attachments without moving off the cab.
However, if you prefer a more hands-on control, Kubota adds the functionality with quick curls and raises on the joystick.
The unique features should guide you in choosing what's best for your farm or session.
FAQ
What tractor is better John Deere or Kubota?
The preference between John Deere and Kubota tractors is subjective and depends on specific needs. John Deere is known for its extensive product range and strong reputation in agriculture, while Kubota is praised for its compact and versatile tractors suitable for smaller farms and landscaping. Both brands have loyal customer bases, and the choice should be based on factors like the intended use, budget, and dealer support.
Why Kubota tractors are the best?
Kubota tractors are highly regarded for their reliability, durability, and versatility. They are known for their compact size and maneuverability, making them ideal for various applications, including landscaping, gardening, and small-scale farming. Kubota also offers a range of innovative features, including hydrostatic transmissions and attachments, which enhance their appeal to a wide range of customers.
Is Kubota the best tractor?
The determination of whether Kubota is the "best" tractor depends on individual requirements. Kubota excels in certain categories, but it may not be the best choice for all situations. Factors like the size of the operation, specific tasks, and budget constraints should guide the decision-making process.
Who is John Deere's biggest competitor?
One of John Deere's biggest competitors in the agricultural equipment industry is CNH Industrial, which owns brands like Case IH and New Holland. These brands produce a wide range of tractors and farm machinery, competing with John Deere in various segments of the agricultural equipment market.