How Much Does a Tractor Weigh? (With Examples)
Among the several aspects to consider when choosing a tractor is weight. Tractor weight is so important because of its effect on the tractor's efficiency and how it will be used.
You want to get a tractor that's not too heavy and not too light to pull most tractor implements. That said, how much does a tractor weigh?
Most standard utility farm tractors, with horsepower between 52 and 75, weigh an average of 2,388 kilograms (5,264 pounds).
This figure can be slightly higher or lower depending on brand, type, and model. Also, the overall tractor weight would usually increase as horsepower increases.
Other factors like tire type, ballasting, fuel quantity, and cab type can also affect the weight of a tractor.
As with everything, farm tractors are manufactured to feature different weights, shapes, widths, and power output.
Tractors usually weigh around 2,388 kilograms on average, but there's often a slight shift from this figure based on the model.
This article will review some of the most important information about tractor weight and a basic comparison of the weights of some of the most popular tractor models out there.
Is It Important to Know Your Tractor Weight?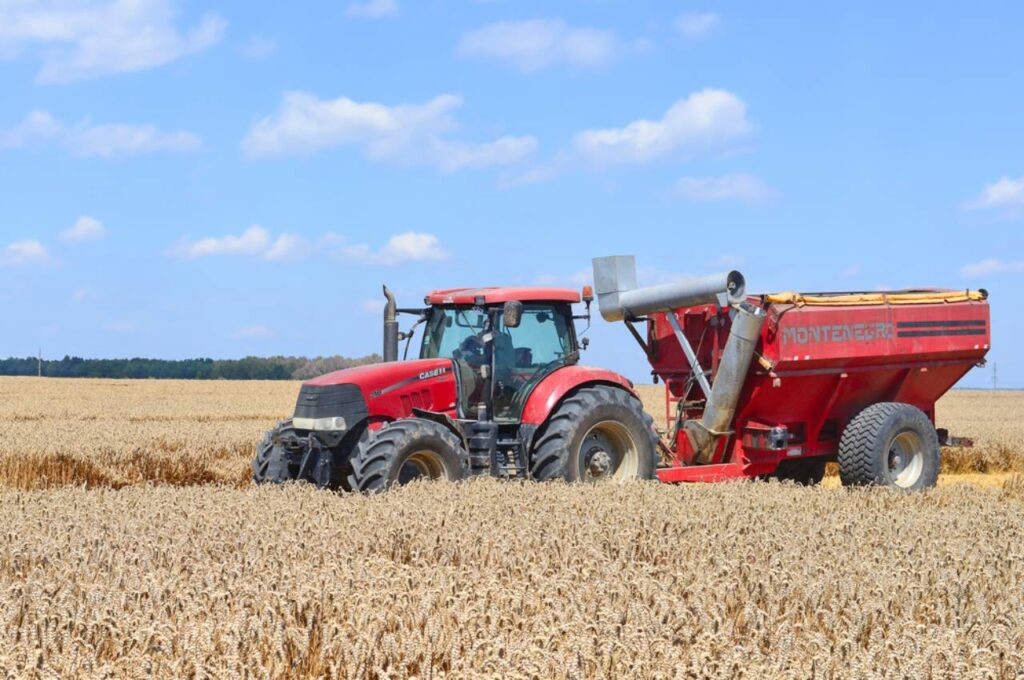 The straightforward answer to this question is yes! There are many aspects of your farm work that tractor weight will generally affect.
For example, weight affects the productivity of the tractor itself. Weight also affects fuel consumption, towing ability, speed limit, workload capacity, and much more.
So a specific knowledge of your tractor's weight will give you an idea of how the tractor responds to these factors.
Workload capacity
Heavier tractors are known for their fantastic traction and stability. Most tractors in this category can handle almost all kinds of farm work.
However, they are ideal for tilling and cultivating. Their weight means they have sufficient gravity to cut into any soil texture. Additionally, weight also helps to prevent wheel slip.
Heavier tractors will remain stable, even when hauling heavy equipment, moving up sloped terrains, and picking heavy hay bales.
However, note that you may experience some difficulty if you try to use a heavy tractor on soft terrains.
Fuel consumption
Unfortunately, this is one area where lighter is better. Heavier tractors are built for heavy-duty work, which means more fuel consumption.
Before buying a heavy tractor, think about how much fuel it consumes. Usually, this information is written somewhere on the tractor.
In addition to fuel consumption, lighter tractors are faster and easy to transport. So, if you'll haul the tractor for a long distance after purchase, it makes sense to go for lighter tractors.
But that may mean sacrificing a bit of ground manipulation because their tires may need to have the right traction needed for hard soils.
So, before choosing a tractor model, it's important to review the weight in relation to these factors we've explained.
Check to be sure a particular tractor can handle the intended workload and terrain condition before investing in it.
So, What's The Average Size of A Tractor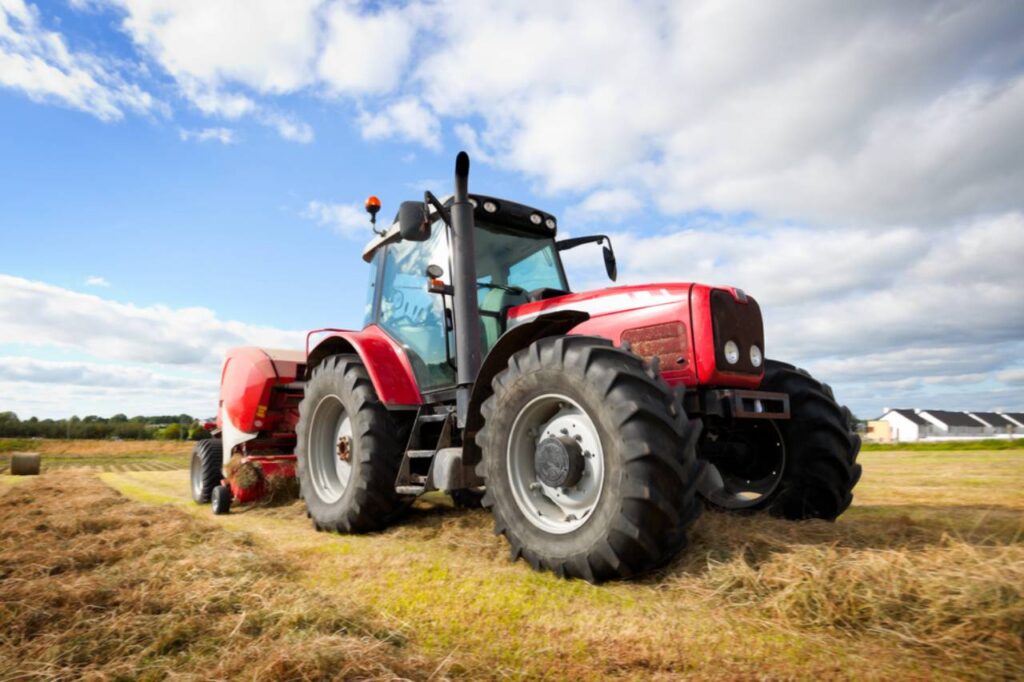 As we've seen above, tractors come in different shapes, sizes and varieties. The weights of tractors can vary based on these factors.
Notwithstanding, tractors typically have a base weight, which mostly remains the same unless you detach components vital for its performance (body, engine, and chassis).
You'll probably see some articles peg the average weight of tractors at about 15,628 pounds, but that's for the big-sized industrial tractors.
If you want a more realistic picture of tractor weights, it's vital to exclude monster trucks owned by the most prominent agricultural companies.
That said, the weight of a standard farm (52 to 75 horsepower) ranges between 5,170 pounds and 5,800 pounds.
Note that the tractor's engine power will always be directly proportional to the weight of the tractor. So, the bigger the tractor, the bigger the engine power you can expect from it.
For example, small garden tractors like the Husqvarna YTH18542 with 18.5 HP can weigh as low as 490 lbs.
Compare that to the bigger John Deere 5075E (75 hp) that weighs 6,702 lbs, and you can tell how much difference weight makes in the engine power calculation.
Let's also point out that brands and manufacturers can also influence the weight of a tractor. So, you may find two tractors with almost the exact specifications varying in weight.
That is why you should always check the weight of your choice tractors differently before paying for them.
However, remember that the above-stated weights are just the starting point.
The base weight of most tractors will increase as you attach trailers, fill up the fuel tank, add accessories, upgrade tires, add cargo, change cabin style, and ballast the tractor.
9 Common Tractor Models and Their Weight
Now that we've talked so much about general tractor weight, you're probably wondering which to buy.
If tractor weight is a concern for you when choosing, here's a section that reviews some of the common tractor models out there. Let's go!
1. Kubota MX5000 (2002 – 2008. Series)
Horsepower: 52.2 HP
Total Weight: 1,492 kg
Kubota ranks high among popular tractor brands for obvious reasons. First, the brand pays attention to delivering quality.
It also comes in different sizes, models, and engine specs, so you'll have something that suits your work.
One of the most popular models in the line, the Kubota MX5000, is listed as an intermediate model between the M and L series.
If you want something bigger, we recommend going for the MX5100.
The MX5000 is available in two options (2WD and 4WD).
You'll also find that it's less expensive than the Kubota M4900, despite featuring a hydraulic system and more basic transmission.
Like most other options in the M series, the MX5000 is very large and mostly designed for agriculturists.
It's an excellent option for small-scale farmers requiring small-to-average pull power.
2. Mahindra 475 DI XP Plus
Horsepower: 44 HP
Total Weight: 1825 kg
Here's a tractor from another famous tractor brand in today's market. There's so much about this tractor that distinguishes it from other models.
Despite being a relatively compact tractor, it still has enough power and functionalities to get you through most farm work.
Unsurprisingly, it's often recommended for small and medium-scale farming duties.
Some of the most important features of this tractor are higher stability and economical mileage.
These features make them very versatile and ready for most kinds of work. Moreover, the model does not require additional counterweights for operation.
So you won't need to ballast the tractor for efficient utilization. At 1825 kg, you can expect the tractor to easily handle 44 HP and 2000 RPM.
3. Kubota M4-071
Horsepower: 73.2 HP
Total Weight: 2775 kg
A second appearance from the brand only shows the efforts they're putting into delivering top-quality equipment for agricultural and construction purposes.
However, the Kubota M4-071 is a relatively new model in the M series, so it's not surprising that it has several functionalities to fit modern farm needs.
Although a subcompact tractor, it still features enough power to handle some mid-sized agricultural needs.
The tractor is built for low-scale agricultural needs, so it's ideal for hobby farmers and maybe, small cattle farmers.
4. Massey Ferguson 1035 DI MAHA SHAKTI
Horsepower: 39 HP
Total Weight: 1700 KG
Although a compact tractor, the Massey Ferguson 1035 DI MAHA SHAKTI is still known for highly advanced and modern technological solutions; moreover, its performance and working efficiency are features worth discussing.
It's not surprising that farmers generally rely on it for efficient farming. Its 39 HP performance is enough to handle more farm implements.
Like most other models from the brand, Massey Ferguson 1035 DI MAHA SHAKTI suits different kinds of ground textures.
Its 1785 MM wheelbase is built to withstand even the most uncomfortable situations. Additionally, you can trust the tractor to offer sufficient safety and grip without needing any counterweights.
5. Ford 8N
Horsepower: 27.32 HP
Total Weight: 1,833 kg
Easily the most popular model in the Ford N series, Ford 8N features everything an average farmer would need to pull light and heavy implements.
Its instant popularity when it was introduced was largely because it was the first tractor to provide a clutch on the left side and independent brakes on the right.
It also features a side-mounted distributor, a proof meter, and a decent work capacity.
We'll know Ford, so there's no need to talk about the level of attention the company pays to quality.
The Ford 8N is also equipped with a 2.0 L, four-cylinder gasoline engine and one of the two types of transmissions popular with the N series.
6. John Deere 5065E
Horsepower: 67 HP
Total Weight: 2290 kg
John Deere 5065E is an excellent tractor model to turn to when looking for an efficient tractor that will help increase crop production on the field.
The model features impressive performance, despite being available at a relatively affordable price.
One of the most striking features of the John Deere 5065E is its optional 2WD and 4WD tractor, which allows it to deliver 2400 RPM at 65 HP through a 3-cylinder engine with a 2900 CC capacity.
The tractors come with the option of an open or cap station. The open station comes with a standard foldable ROPS. The foldable feature makes for easier storage in small spaces.
The John Deere 5065E is ideal for farmers, property owners, and professional landscape contractors who need a little more power than a compact tractor would ordinarily produce.
Its 2290 kg weight combines with a 2050 MM wheelbase to deliver top-level vehicle stability.
7. Deutz-Fahr 9340 TTV
Horsepower: 336 HP
Total Weight: 11,999 kg
Deutz-Fahr 9340 TTV is easily one of the most amazing tractors in today's market.
Apart from being one of the most highly powered tractors from Deutz-Fahr, it also has an extraordinary engine that fits its heavy body.
One of the essential features of this tractor is the presence of a set of Deutz TTCD 7.8 / 6-cylinder engines (max power 247-336 HP).
It also comes with an electronically controlled transmission that gives the right speed for all kinds of farm work.
No doubt about its ability to handle heavy-duty farm and construction works. After all, its 5,000 kg front lift capacity and 12,000 kg lift capacity are built for this.
Add these features to the Maxivision cab 2, which provides enough room for the operator, and you can tell why many users easily opt for this model.
8. Bobcat s250
Horsepower: 75 HP
Total Weight: 3549 KG
There are so many features that stand the Bobcat s250 out, but the most important one is the universal skid steer quick hitch that it features.
This hitch allows for the connection of a wide variety of skid steer attachments to the loader.
This feature exists to help contractors power their way to top performance in construction, nurseries, landscaping, and other applications. Lifting and loading are easier and faster.
Like other options in the Bobcat S-series, this one features improved power and performance. It also has better visibility and fantastic operator comfort to ensure maximum productivity.
9. Ford 9N
Horsepower: 23 HP
Total Weight: 1315 KG
The Ford 9n is a 2WD utility tractor from Ford's popular N series.
The tractor comes with a 2.0 L four-cylinder gasoline engine and sliding gear transmission with three forward and one reverse gear.
Its most notable features include the following:
Manual steering.
An open operator station.
Mechanical shoe brakes.
A 38 liters fuel tank.
It's also worth mentioning that this model was the first to use the 3-point hitch system designed by Harry Ferguson.
The tractor's weight and power output make it suitable for small and medium-scale farming and construction works.
It is excellent for attaching different implements, making it more elegant and versatile for many agricultural activities.
Ballasting a Tractor Weight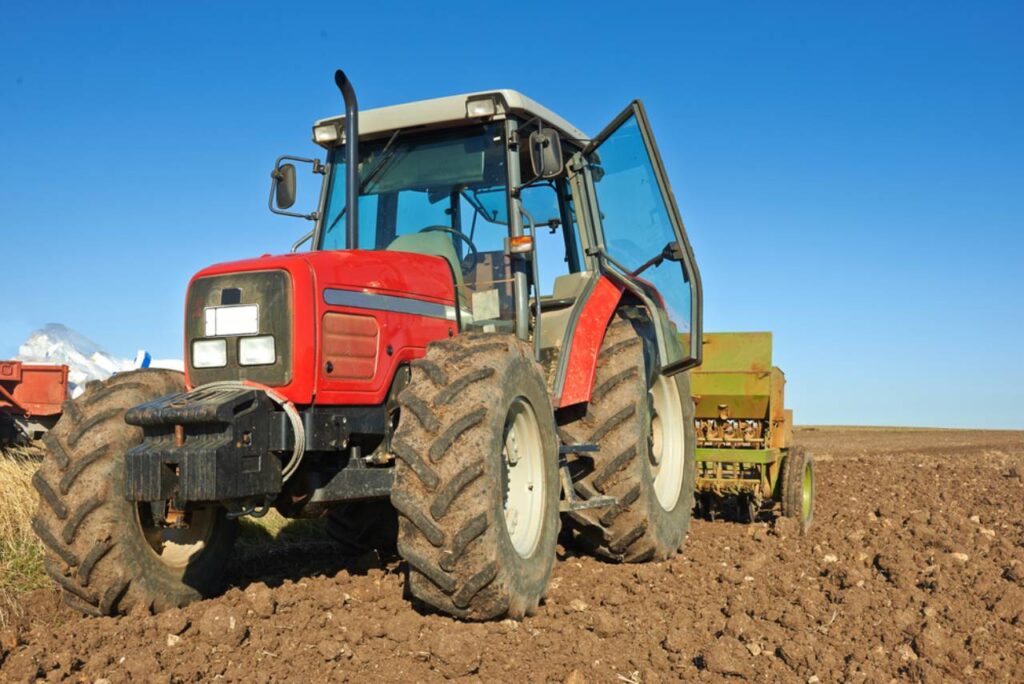 You've probably heard the word "ballast" thrown around the tractor world.
In simple terms, the concept of tractor-weight ballasting involves using a counterweight to improve the performance and stability of a tractor.
When talking about compact tractors, ballasting involves adding weight to the front or rear of the tractor to optimize load distribution.
The truth is that you can change your tractor's power, efficiency, and traction by adding or removing extra weight, which is what ballasting is about.
So, Why Should You Ballast?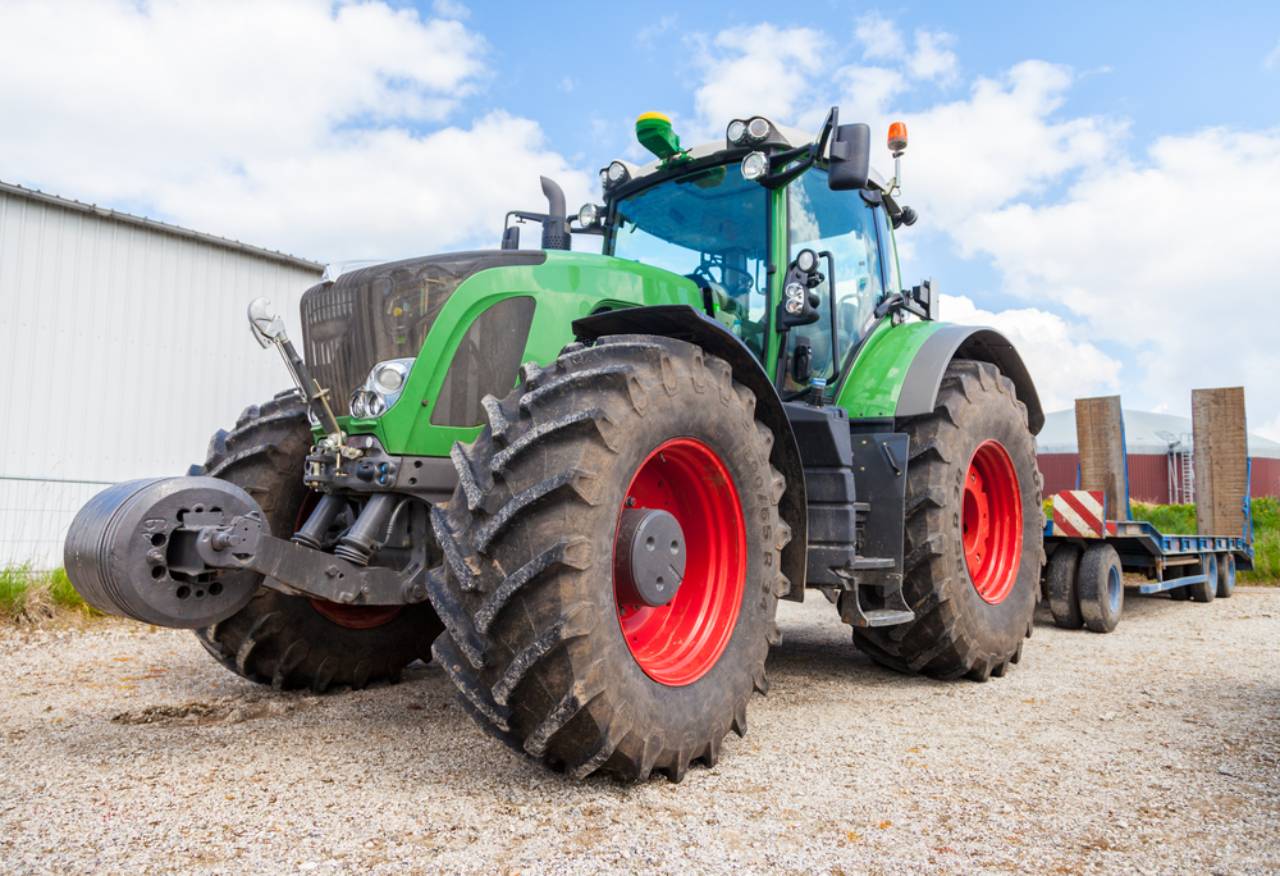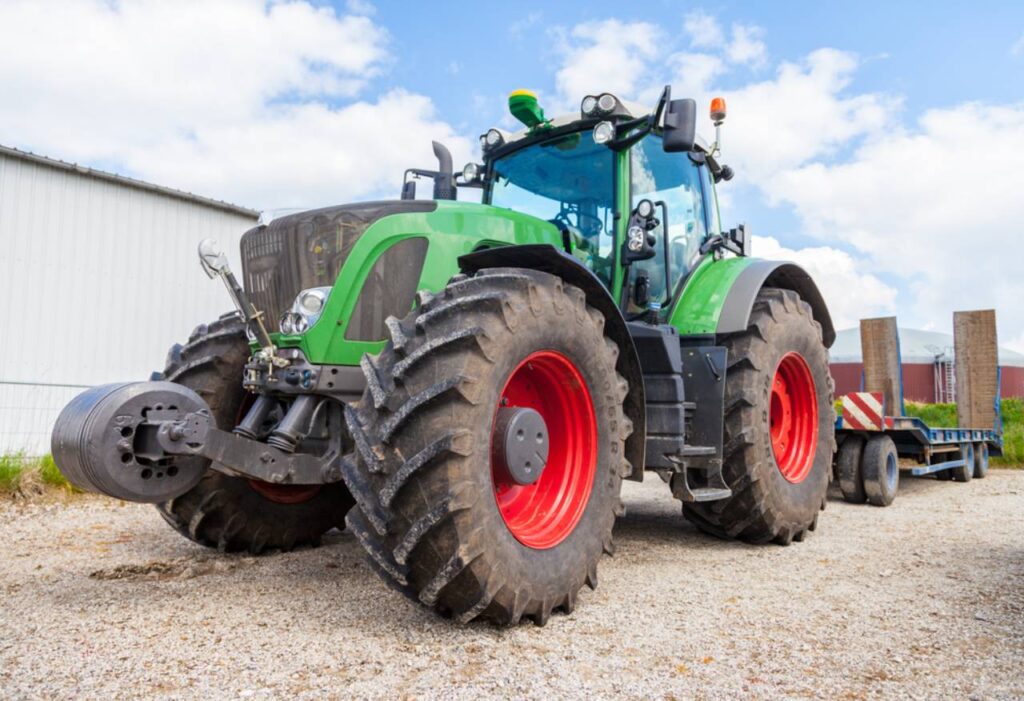 Basically, the whole concept of ballasting is used to ensure all of your tractor's wheels will remain on the ground when you attach certain implements.
The counterweight you'll add will help you keep the rear wheels planted firmly. It also helps to lower your tractor's center of gravity, thus, increasing the tractor's side-to-side stability during operations on uneven terrains.
Additionally, ballasting can have positive effects on the lifespan of the drivetrain components, so you can use the tractor for a very long time without thinking about component replacement.
Depending on the implements you're attaching to your tractor or the task at hand, you may choose to place the ballast at the front of your tractor or in its rear.
Conclusion: How Much Does a Tractor Weigh With Real-World Examples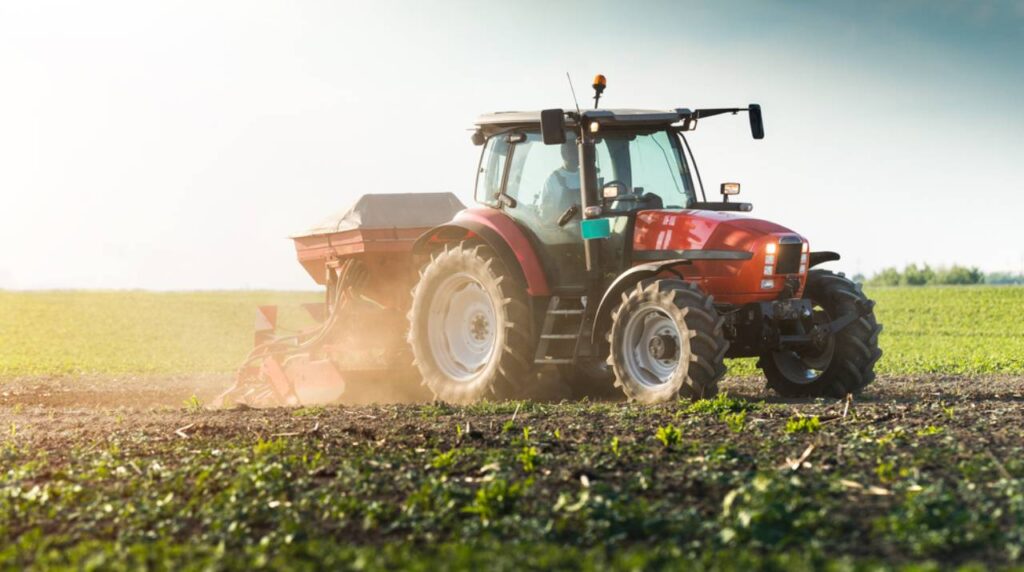 That's a wrap. Tractors are a fascinating subject, and many aspects of it are worth talking about. Today, we've chosen tractor weight because it contributes significantly to how a tractor works.
Besides engine power and tractor type, weight is another crucial aspect to check when buying a tractor.
So far, we've talked about the average weight of a tractor. We've also reviewed some of the average tractor models and their total weights.
The information in this article will not only help you make the right choice for your tractor needs. It'll also help you utilize your tractor to its maximum capacity.
We've also briefly covered the concept of tractor-weight ballasting to help you understand how to balance your tractor weight when adding implements.
FAQ
How do you calculate the weight of a tractor?
The weight of a tractor can be calculated by adding the weight of its various components, including the engine, transmission, chassis, and any attachments. Manufacturers typically provide specifications that list the tractor's weight in its operational configuration, including fluids like fuel and oil.
What is the average weight of a small tractor?
The average weight of a small tractor, often referred to as a compact tractor, ranges between 1,500 to 4,000 pounds (680 to 1,814 kilograms). The weight can vary significantly depending on the make, model, and specific features of the tractor.
How much does a 4 wheel drive tractor weigh?
The weight of a 4-wheel drive tractor can vary widely based on its size and intended use. In general, these tractors can range from 4,000 to 20,000 pounds (1,814 to 9,071 kilograms) or more. Larger 4-wheel drive tractors designed for heavy-duty agricultural work tend to be heavier than compact utility tractors.
How much does a 20 hp tractor weigh?
The weight of a 20 horsepower (hp) tractor can vary depending on the manufacturer and design. Small utility tractors in this horsepower range may weigh between 1,500 to 3,000 pounds (680 to 1,361 kilograms), but the specific weight can vary based on factors such as attachments, tire size, and construction. It's essential to refer to the manufacturer's specifications for precise weight information for a specific 20 hp tractor model.