How Much Does a Skid Steer Weigh? (9 Examples)
Skid steers are so versatile that you may hear a few folks referring to them as the Swiss Army knives of construction equipment. They are low-cost machines that do various jobs, including road building, quarrying, landscaping, demolition, and utilities.
You can tell its popularity from the soaring yearly sales in the United States over the past few years. While it is a known equipment, there are still some questions surrounding its weight.
The typical weight of a standard skid steer is about 8,000 pounds, which is almost the same as a flatbed truck. The weight depends on the model, make, and attachments that come with every purchase. Heavier types have more power, and people prefer them for larger projects.
Skid Steer Overview and Uses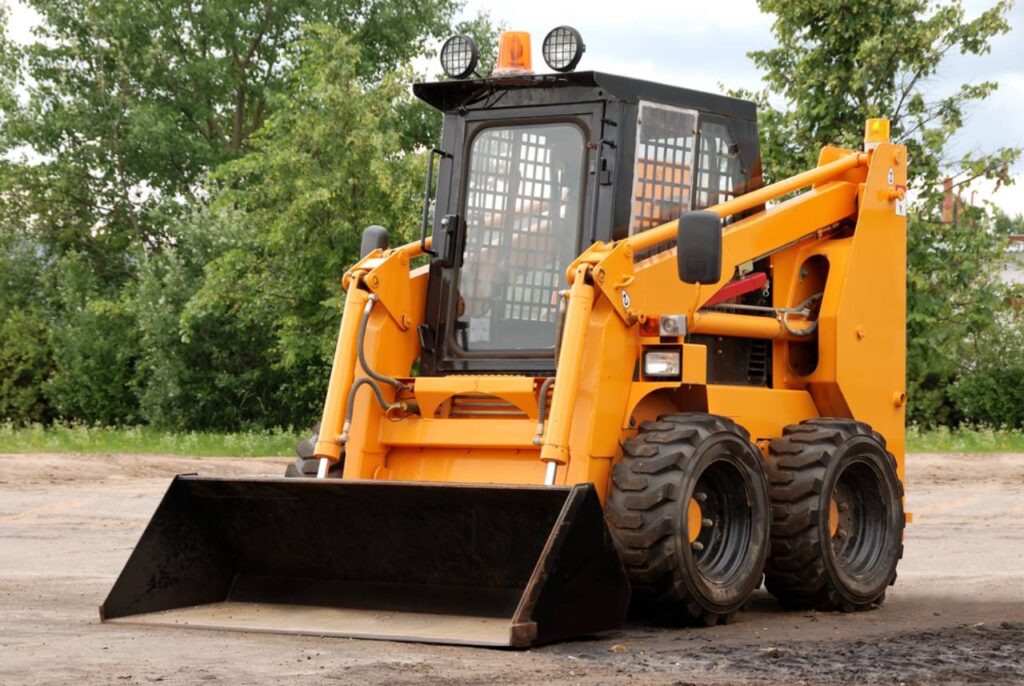 Before we look into the weight of skid steers, let's look at a few pieces of information about skeet steers. A skid steer is a construction machine common in digging and general construction sites.
They are called skid steers because they have locked tires that make a skidding motion as it performs their activities.
Skid steers can replace plenty of work done by construction equipment thanks to their array of attachments. Some common jobs of skid steers include
Landscaping
A skid steer can do landscaping work such as tilling, grinding stumps, chipping wood, etc. The tiller attachment can also be a nice tool for mixing fertilizer or compost into the soil.
You can use the bucket to transport raw materials like soil, gravel, mulch, etc.
Demolition
Skid steers do both exterior and interior demolitions. Due to their compact design, skid steers can help demolish concrete, floors, drywall, and other debris.
It is instrumental for smaller demolition projects where it can maneuver without affecting unintended areas.
Snow Removal
During winter, you can use the skid steer's bucket to clear snow and other accumulated debris. You can also attach a snow blade or snow blower for intense snow removal.
Loading
Apart from snow removal, the attached bucket in a skid steer can help you carry equipment and construction materials around the site.
Trenching and Digging
Another popular use for a skid steer is digging using the trench digger, backhoe, and auger attachments. With the right attachment, a skid steer can do any digging or trenching.
Other common uses of skid steers include grading, backfilling, mowing, agricultural work, roadwork, etc.
Common Pointers to a Skid Steer Weight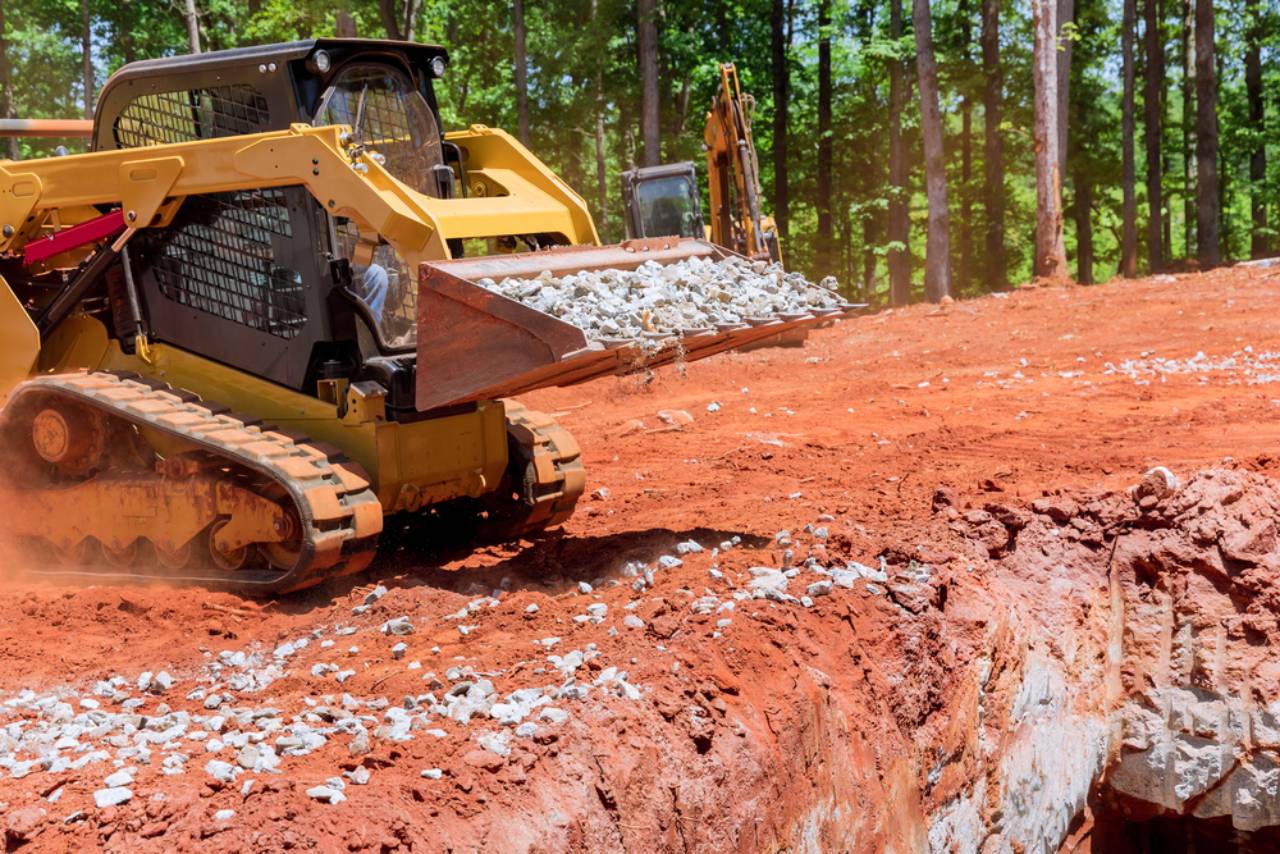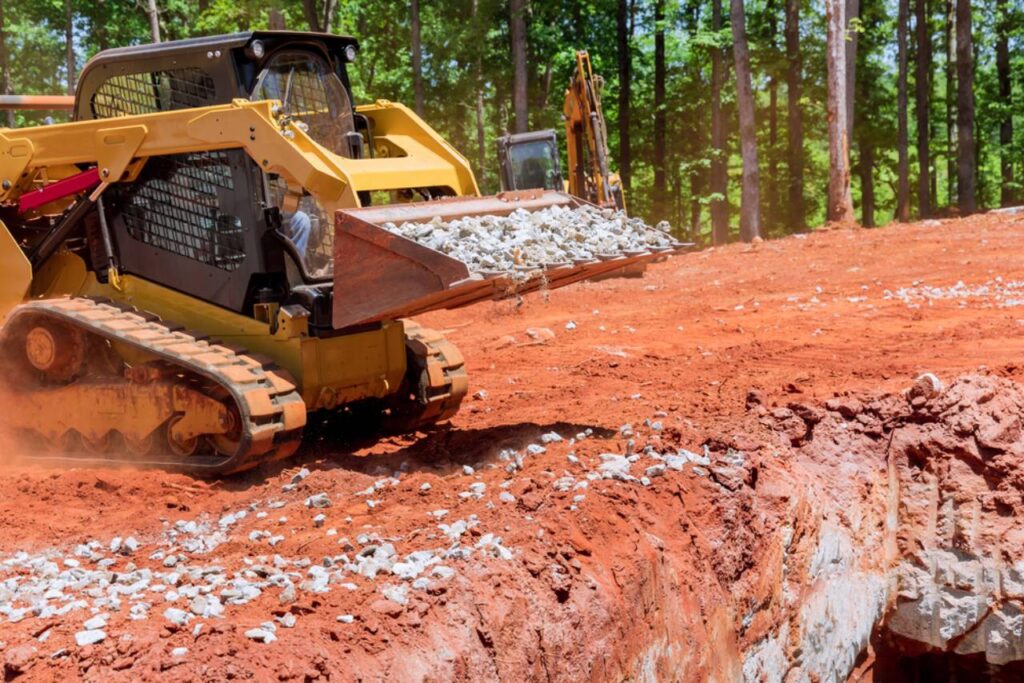 A skid steer's weight will be affected by several factors but we're going to look at these three:
Attachments
Since skid steers are versatile, it comes with many available attachments for construction. To choose the proper attachment, you first need to find out the kind of activities you'll be doing with the skid steer.
These attachments will ease your workflow and probably help you save on purchasing equipment for specific purposes.
Grapple Buckets- add approx. 700 lbs
Pallet Forks- add approx 390 lbs
Box Blades- add approx 1,000 lbs
Drill Bit Augers- add approx 230 lbs
Brooms- add approx 1,00 lbs
Landscape Tillers- add approx 900 lbs
Load Capacity Vs Gross Weight Rating
While searching online for a skid steer's weight is approachable, we recommend going through the manufacturer's details and checking the rating.
It gives accurate information and helps you make the right assessments based on the skid's weight.
Load Capacity or Operating Capacity is the maximum amount of weight a skid steer can safely lift. It is better to keep the total load at 90% capacity to avoid overworking the steer and maintain safety.
Gross Vehicle Weight Rating (GVWR) is the actual total weight of the skid steer including all attachments. This figure does not include any additional attachments purchased separately.
Counterweight
Counterweight is not necessarily a factor affecting a skid steer's weight, but it is crucial to look at when talking about weight.
Skid steers are quite heavy due to their immense counterweight. Its weight distribution with an empty bucket is 30 percent forward and 70 percent from the rear.
Once the bucket is filled, the weight becomes evenly distributed, allowing you to move it freely. The only backlash with having a heavy counterweight is the rear becomes heavier, limiting movement uphill.
Towing
Skid steers are compact, but driving them around is never easy. So, they are often towed as a way of transportation.
Towing requires a truck of at least half a ton and a suitable trailer. So, it is crucial to check on how you'll transport the trailer when considering its weight.
Skid Steer Weights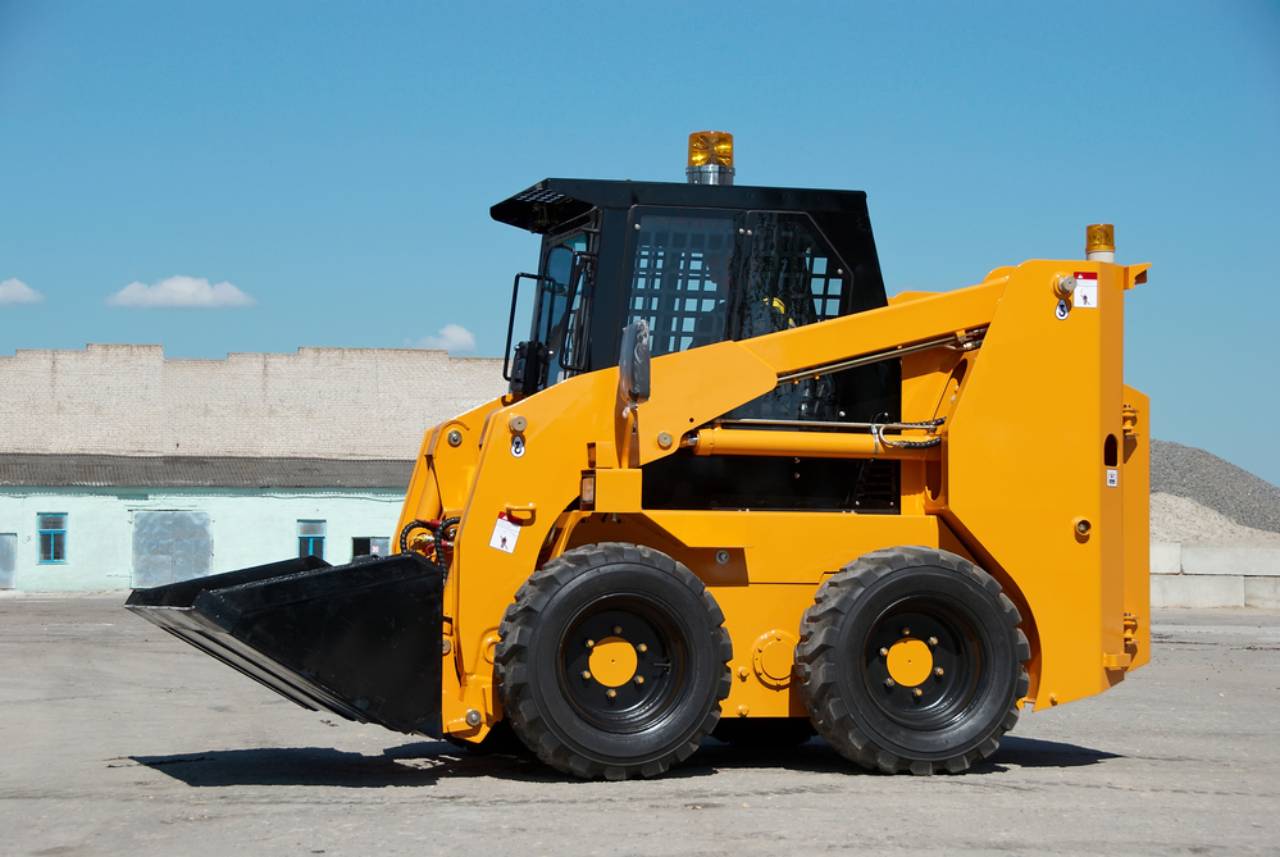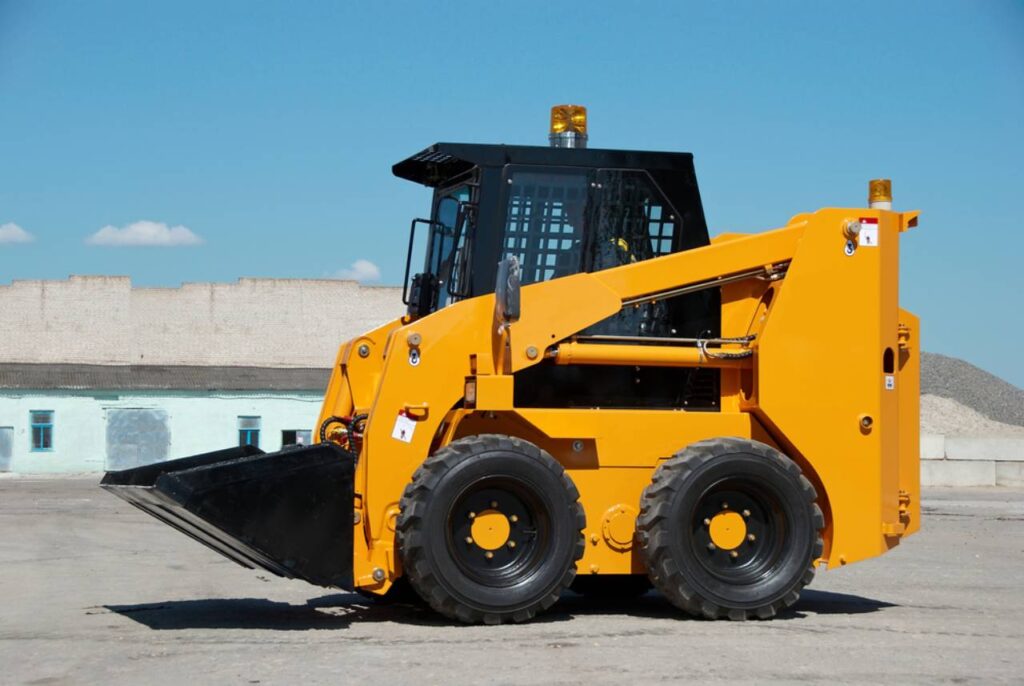 So how much does a skid steer weigh?
Skid steers are notoriously heavy, and a small size can lift one-third of its total weight. For instance, the Bobcat S450 has an operating weight of 5,340 lbs and a rated capacity (ROC) of 1,300 lbs- about 30 percent.
Skid steer falls into three categories as per weight: small-frame, mid-frame, and large-frame. Small-frame skid steers have a ROC of up to 1,800 pounds.
Medium-frame skid steers have a ROC between 1,800 – 2,200 pounds. Finally, the large-frame skid steer has an average ROC of more than 2,200 pounds.
Popular Skid Steers
| Skid Steer Model | Average Weight |
| --- | --- |
| CAT 232D3 | 6,514 lbs |
| Kubota SSV6 Open Cab | 6,790 lbs |
| John Deere 316GR | 6,375 lbs |
| John Deere 312GR | 5,995 lbs |
| John Deere 324G | 7,700 lbs |
| CAT 272D3 | 9,133 lbs |
| ASV VS-75 | 8.740 lbs |
| Case SR130B | 5,000 lbs |
| Kubota SSV75 Closed Cab | 8,422 lbs |
Towing Skid Steer Loaders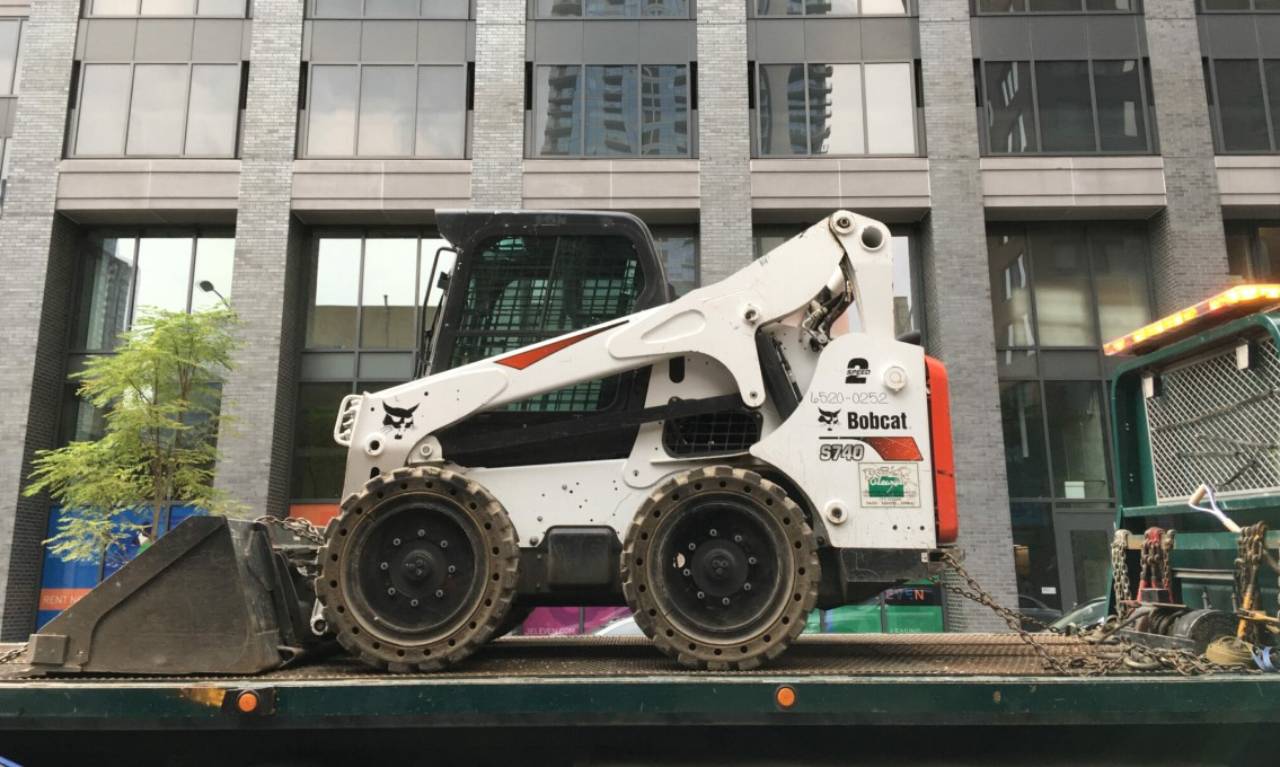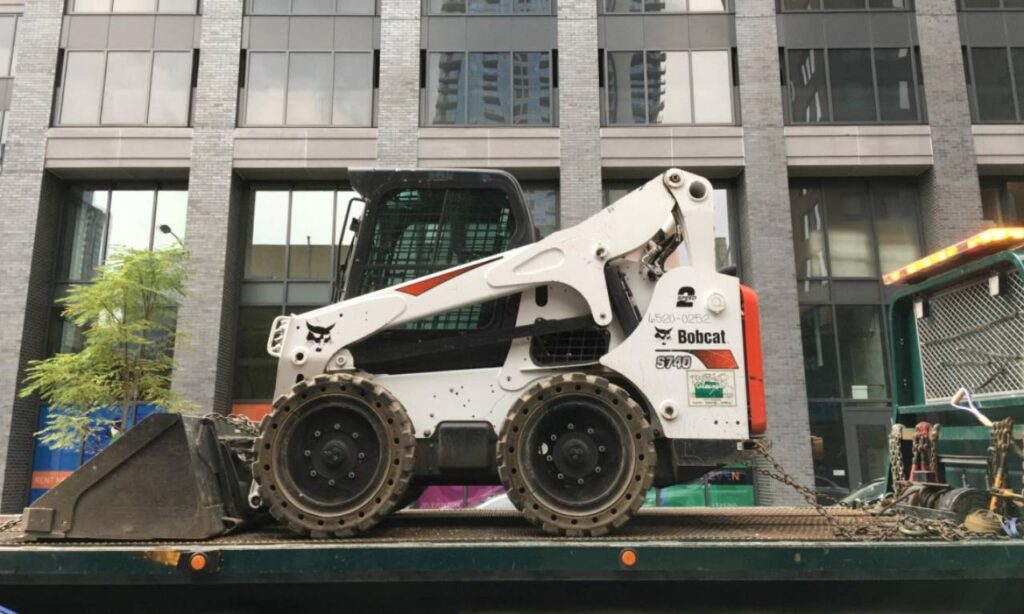 Looking for the best way to transport your skid steer requires examining its total operating weight, the towing capacity of the towing vehicle, and the weight of the trailer.
Small-sized skid steers can easily be transported by any half-ton truck with a standard low-bed float.
Mid-frame skid steers are also perfect for half-ton trucks with larger bed floats of about five tons. Large-frame skid steers may require newer models of half-ton trucks but are better suited in three-quarter-ton trucks.
For instance, the Bobcat S850 Skid Steer is a large-frame construction equipment with an overall weight of 10,240 lbs and a maximum reach of 12 feet.
You will need a seven-ton low bed float with an 11,000-pound capacity and an empty weight of 2,600 pounds.
Since the combined weight of the skid steer and the bed float is about 13,000 pounds, it can be carried by a limited number of half-ton trucks.
Currently, the Ford F-150 3.5L EcoBoost is the only capable truck because of its massive towing capacity of 14,000 pounds. The 2021 Dodge Ram also has enough power to tow most of the large-frame skid steers.
Towing Tips for Skid Steer Loaders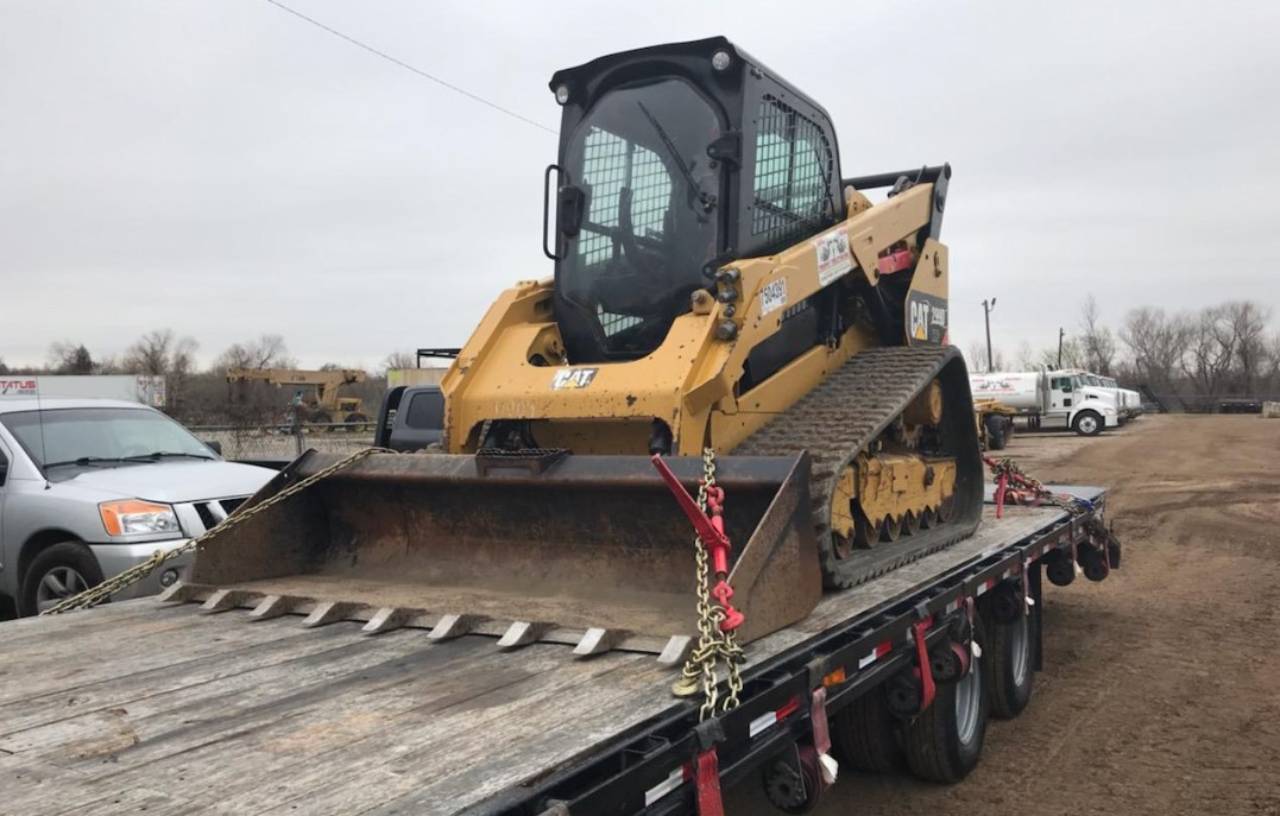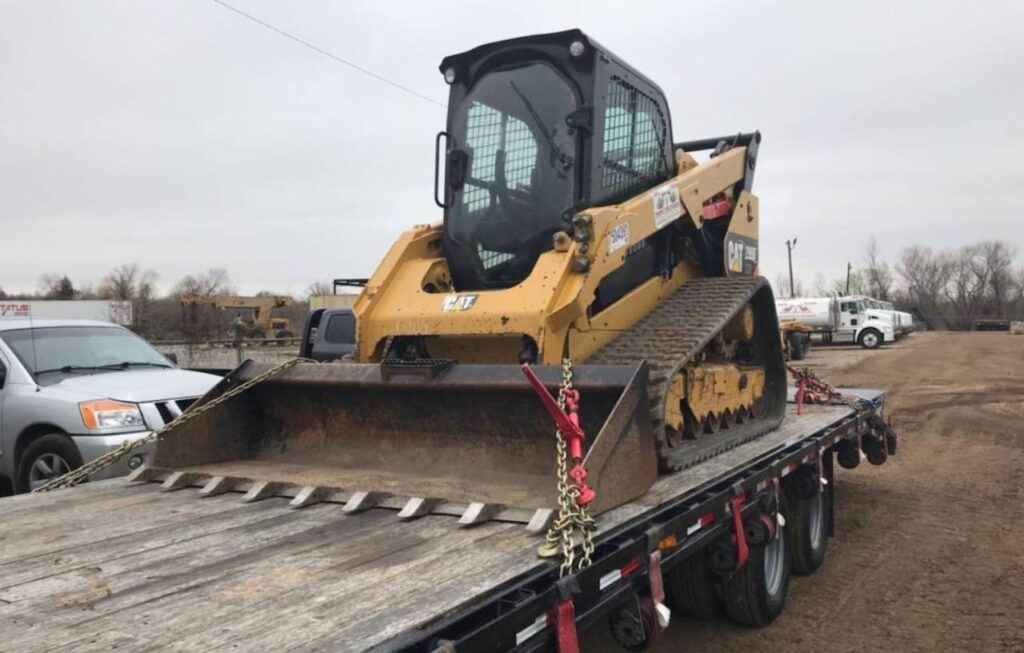 Always place the heavier side of the load on the front side to prevent fishtailing (sway).
Keep attachments as low as possible to maintain the skid steer's balance. Ensure the boom is centrally placed on the trailer.
Apply a parking brake when backing onto the trailer while keeping the attachment to the trailer floor.
Add chocks at the front of the front tires and the rear tires when backing.
Add extra tie-downs to ensure the machine does not move during transport.
Consider a Grade 80 chain or a 5/16 chain for middle-frame skid steers.
Frequently Asked Questions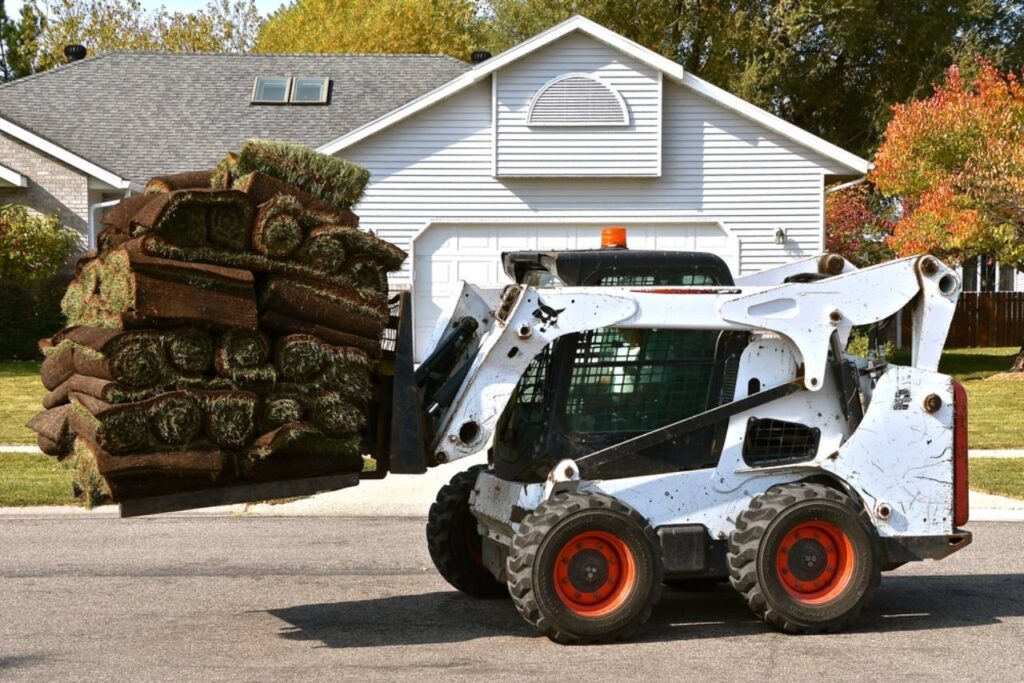 Why do skid steers weigh so much?
Skid steers are oddly heavy because of their counterweight. It is a necessary feature as it keeps it from tipping over, maintaining its center of gravity.
What trailer size is needed to haul a skid steer?
Any 12, 14, or 16-ft trailer with an average load capacity of 12,000 lbs to 20,000 lbs can safely transport skid steers.
The 16  ft models are better if you need more space to carry your skid steer.
How heavy is a small skid steer?
A small skid steer weighs an average of 4,000 pounds with a ROC of about 1,200 pounds. The capacity is majorly dependent on the brand and extra attachments.
Can a 1500 pull a skid steer?
The 2021 Chevy 1500 with EcoTec3 V8 engine can tow most of the large-sized skid steers except the larger Bobcat models.
Its advanced engine gives it enough horsepower to move up to 25,000 pounds of weight.
Do skid steers get stuck easily?
One of the drawbacks of skid steers is the wheeled versions are vulnerable to getting stuck in certain environments like snow, wet grass, or mud.
Such places may require a skid steer with tracks to maneuver with ease.
Can a skid steer lift 4,000 pounds?
There are a few models of skid steers that are capable of handling up to 4,000 lbs of weight.
For instance, the 2021 Mustang skid steer has a rated capacity of about 4,000 lbs and a vertical reach of up to 144 inches.
Wrapping Up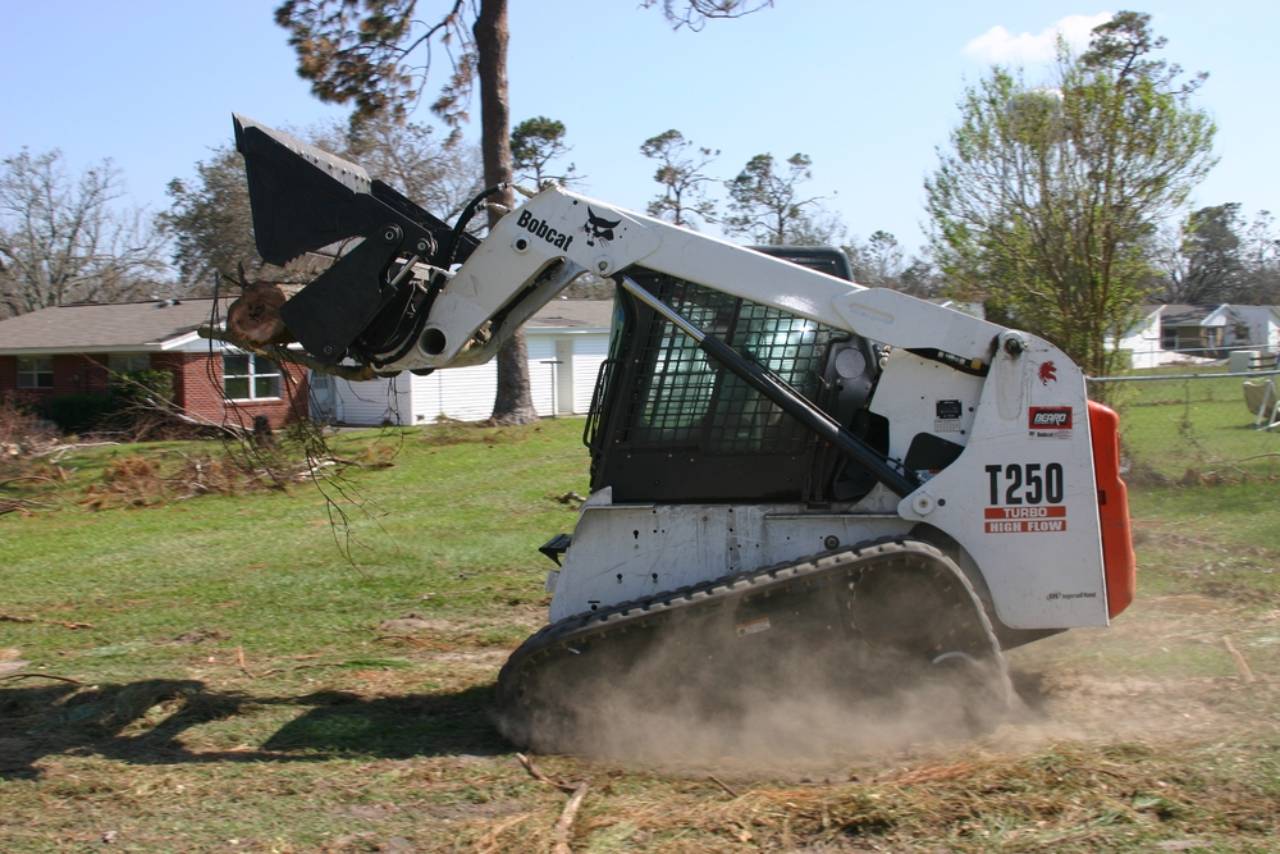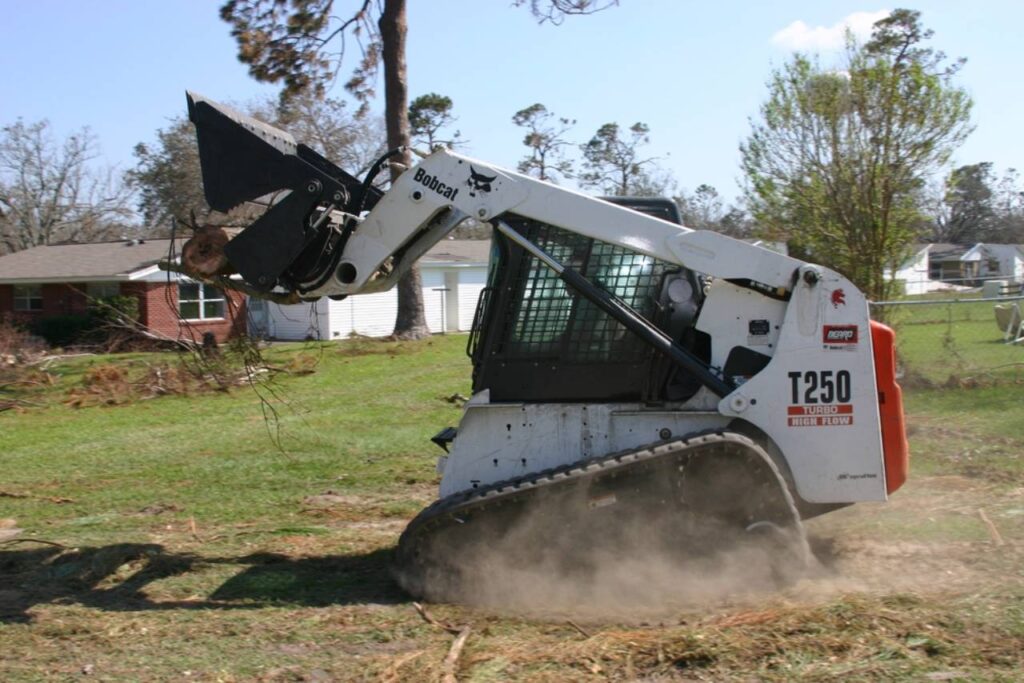 There might be a lot of information in this post, but you shouldn't worry as it details everything you need to know about skid steer weights.
Once you know where you want to use the skid steer, and how to transport it, you're good to go.